Food Friday - Food With A View
31st August 2023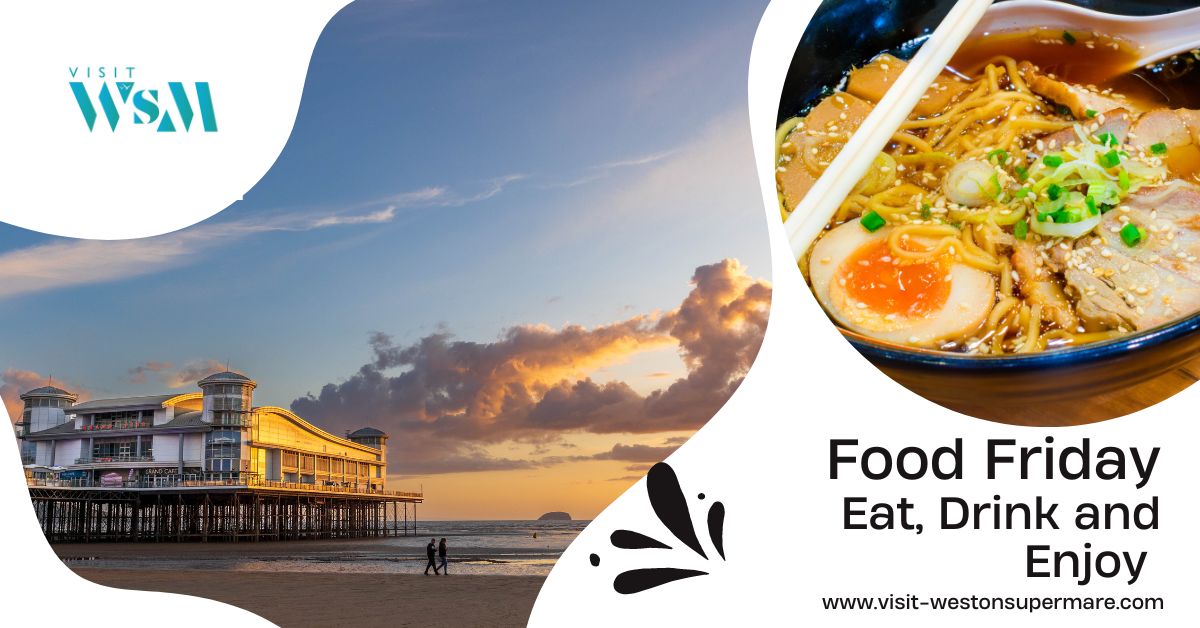 I'm Dave the Tourism Marketing Officer for Weston-super-Mare and the surrounding area. It is a privilege to promote this wonderful place where there is so much going on every week.
I love views, particularly sea views, which means I will often choose the vista before looking at the menu. Luckily, I have been able to find great food in restaurants that also have super views which means my eyes and stomach are both satisfied.
The Old Thatched Cottage, Knightstone Road
This is a place full of historic charm with a sea view and fab food to match. The seafood is cooked to perfection but they also do great steak, particularly when you add the stilton de vin sauce, so there is always plenty of dithering when the menu arrives.
Sitting outside at the front of this olde worlde thatched cottage watching the world go by just adds to the dining experience. If you want the warming firepit for your table, it is worth booking in advance.
Bistrot Pierre
An upstairs table overlooking the sea or a spot on the circular outside balcony gives this seafront restaurant an extra edge and the quality of food matches the quality of the view. It's a perfect spot for pre-theatre or pre-cinema food and was recognised as a 2021 Traveller's Choice Winner by Trip Advisor. It has a touch of elegance and a varied menu. The Honey Glazed Pork Medallions with Morteau sausage, caramelised Granny Smith apples, crispy onions, Dijon beurre blanc, dauphinoise potatoes and French beans is a particular favourite.
Revo Kitchen
We first discovered Revo when it sat alongside its huge neighbour the SEE Monster. Its balcony was the ideal place to watch that never-to-be forgotten drone show after a relaxing meal in the restaurant. Having discovered Revo, we keep going back. The views across the beach are stunning whether it's for brunch, lunch, dinner or a cake break. Our particular favourite is coffee and a cake (there's plenty of choice). Sitting back, after a brisk walk, admiring the view with an indulgent slice of cake after a brisk walk is what days off are made for. The selection of cakes and pastries invite you in as you walk through the door. And if you want to take it outside there's a balcony with firepits.
Junior Poon, Clevedon
There is nothing quite like the pressure of organising a surprise 50th birthday party meal particularly when the guests are coming from as far afield as Scotland, London and Hampshire. The food, service and the ambience has to be spot on. Luckily the Junior Poon Chinese Restaurant in Clevedon scores on all fronts. You know all your guests will be impressed whether they are vegetarians or meat eaters. The food is always top-notch and if you're with a large group it's worth choosing different dishes and then sharing. The atmosphere is perfect, you can hear yourself speak, there is enough room between the tables that you feel like you're having your own private party and you can linger over your meal for a couple of hours without ever feeling pressurised by the staff. For that special occasion it's a guaranteed winner for anyone who appreciates fine food in comfortable, elegant surroundings. This restaurant doesn't have a sea view but when the food is as good as this I can make an exception.
Theatro Lounge Clevedon
We love Clevedon's Curzon Cinema. It's one of the oldest in the world. Its first performance was five days after The Titanic disaster to raise money for the relatives of the victims. It's a special place and if you pay a quid extra to sit in the upstairs balcony it feels like date night all over again - which means it's only polite you should have a good meal first. That's where the Theatro Lounge comes in. It's literally on the side of the historic cinema building and is perfect for that pre-show meal. It's the same group as Weston's Brunello Lounge, which we also like, and the menu is the same. They serve a good range of food and their tapas is the perfect pre-film meal especially on a Tuesday when it's three dishes and a glass of house wine for £12.50! It's another one without a sea view but as I know my eyes will be feasting on a film shortly, I'm Ok with that.