Weston-super-Mare, the seaside heart of North Somerset.
Welcome to the official destination website for the original British seaside resort of Weston-super-Mare on the north Somerset coast.
Weston-super-Mare, nestled on the Somerset coast and embraced by Weston Bay's 2 mile long sandy beach has reinvented itself from its beginnings in Victorian history. Few towns can say that their beachfront is so close to the town centre, is mostly on the level without steep walkways and can offer so much to do, whatever the weather.
Travelling here couldn't be simpler with Weston-super-Mare being easily accessible by road, bus or train and we're just 20 minutes or so from Bristol Airport. We're just off Junction 21 of the M5 20 miles southwest of Bristol and the M4 interchange. There's a central train station, a central bus hub that services all local and National Express buses. We're within a couple of hours' drive from the Midlands and West London, an hour's drive from the Cardiff area and a great place to stop off instead of making a long drive into the Devon and Cornwall peninsula.
Our beach
You might well know us for our traditional donkey rides, the amusements and rides of the Grand Pier, ice-cream on the beach and fish & chips. We have so much more to offer as well! There's two theatres, two cinemas, a free museum, a vast range of traditional and international cuisine, the Southwest's highest indoor climbing walls – you'll be pleasantly surprised at the amount of things to do. You might also know us for our dramatic tides, the second highest tidal range in the world. Marine Lake was renovated in 2022 and offers the perfect spot with its own sandy beach for sea water swimming, paddling and gentle watersports even when the tide is out. Every day, the water is replenished by the natural tides and it's always there! Here's the link!
Many of our visitors remember coming here as a child and now come back with their own families. Everyone is pleasantly surprised at the improvements made since that visit so long ago.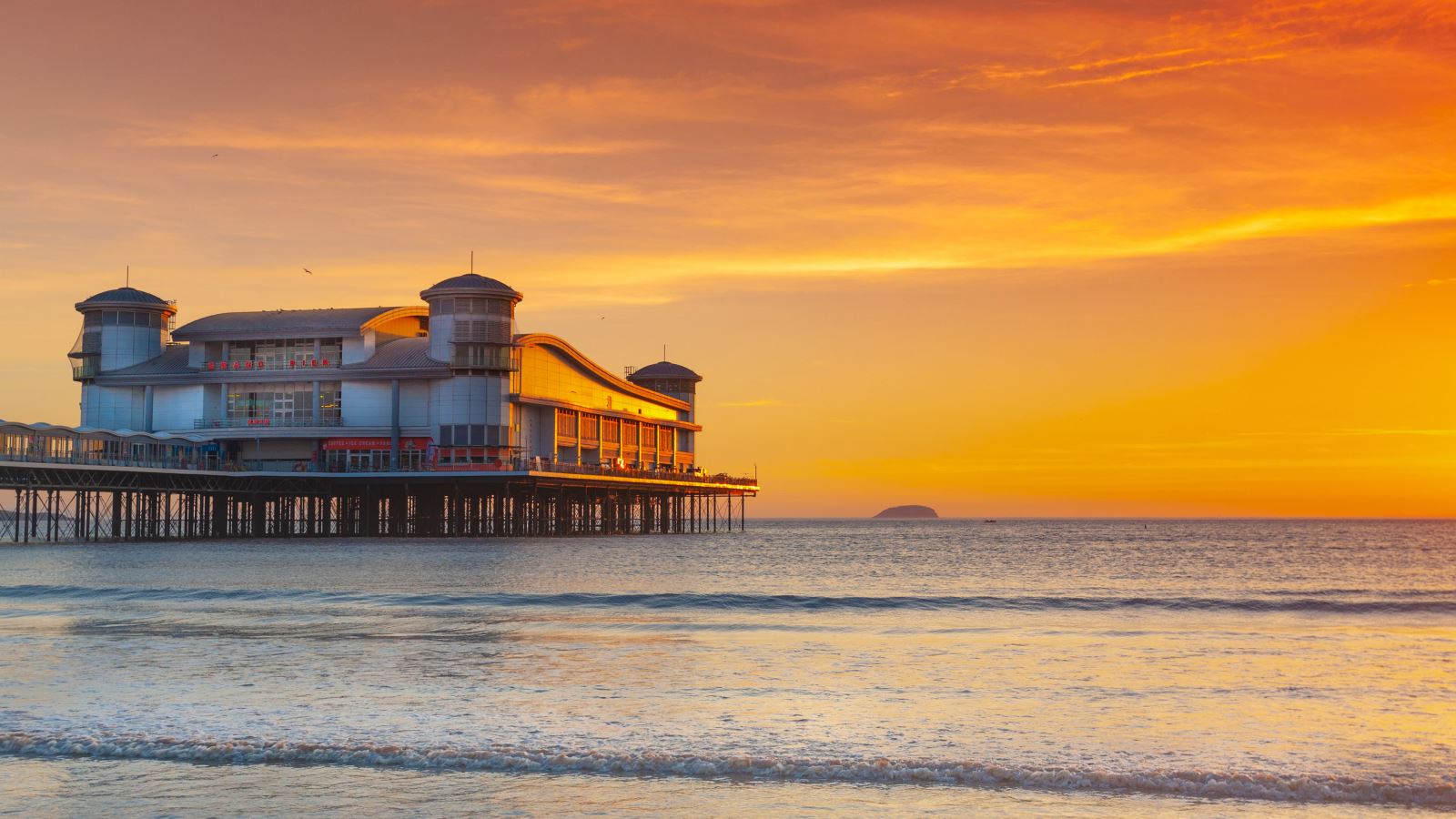 A wide choice of accommodation
There's a choice of accommodation with hotels, guest house B&B's and delightful self-catering apartments throughout the town, many of which are on the seafront. You're sure to find something to suit your budget and your requirements plus you have the comfort of knowing that all properties promoted on the visit-westonsupermare.com website have been quality checked.
Many accommodation providers are dog friendly and dogs are permitted on the long beach year round, with dedicated areas in the summer months.
What's nearby?
Weston-super-Mare is at the perfect gateway to all the attractions that Somerset offers. You can spend your holiday at the beach and if you want a change, let public transport take the strain to explore the delights of what we think is one of the prettiest English counties.
The picturesque town of Clevedon with its Grade I listed pier is 30 minutes away, in 45 minutes you can be in Portishead, where you can unwind and dine out by the vibrant marina. The spectacular landscapes and caves of Cheddar Gorge are 12 miles away, the vibrant city of Bristol is within 25 minutes by train. Or venture further afield to many iconic tourist spots including Glastonbury, Wookey Hole, or Wells, all within an hour's drive.
Alternatively, if you're staying inland or nearby, Weston-super-Mare is a great day out. Lots of people who visit for the day are so impressed that they book to stay here next time around!
Things to do
Annual events such as the Armed Forces Day in June, Pride in July, RHL Enduro Beach Race in late Autumn and the Weston Carnival in November ensure that there are always things to do in Weston-super-Mare, regardless of the weather, season or budget.
The Blakehay Theatre is centrally located and appeals to fans of performing arts from all generations. Around the corner is The Playhouse Theatre that often showcases tribute bands and West End names. Live music is a regular feature at many of our hotels and bars.
Discover the history of Weston-super-Mare at the free to enter Weston Museum, which is also home to Dismaland's Pinwheel on loan from Banksy. You can also visit the world's largest Helicopter Museum on the old Weston airfield just outside the town centre.
The seafront Water & Adventure Play Park with adjacent car parking is open year round as an adventure park and seasonally with water splash features. It's free to enter with a reasonable £2.50 charge per child when the water features are in operation, lots of grass seating and a café. Adults accompanying children enter free of charge.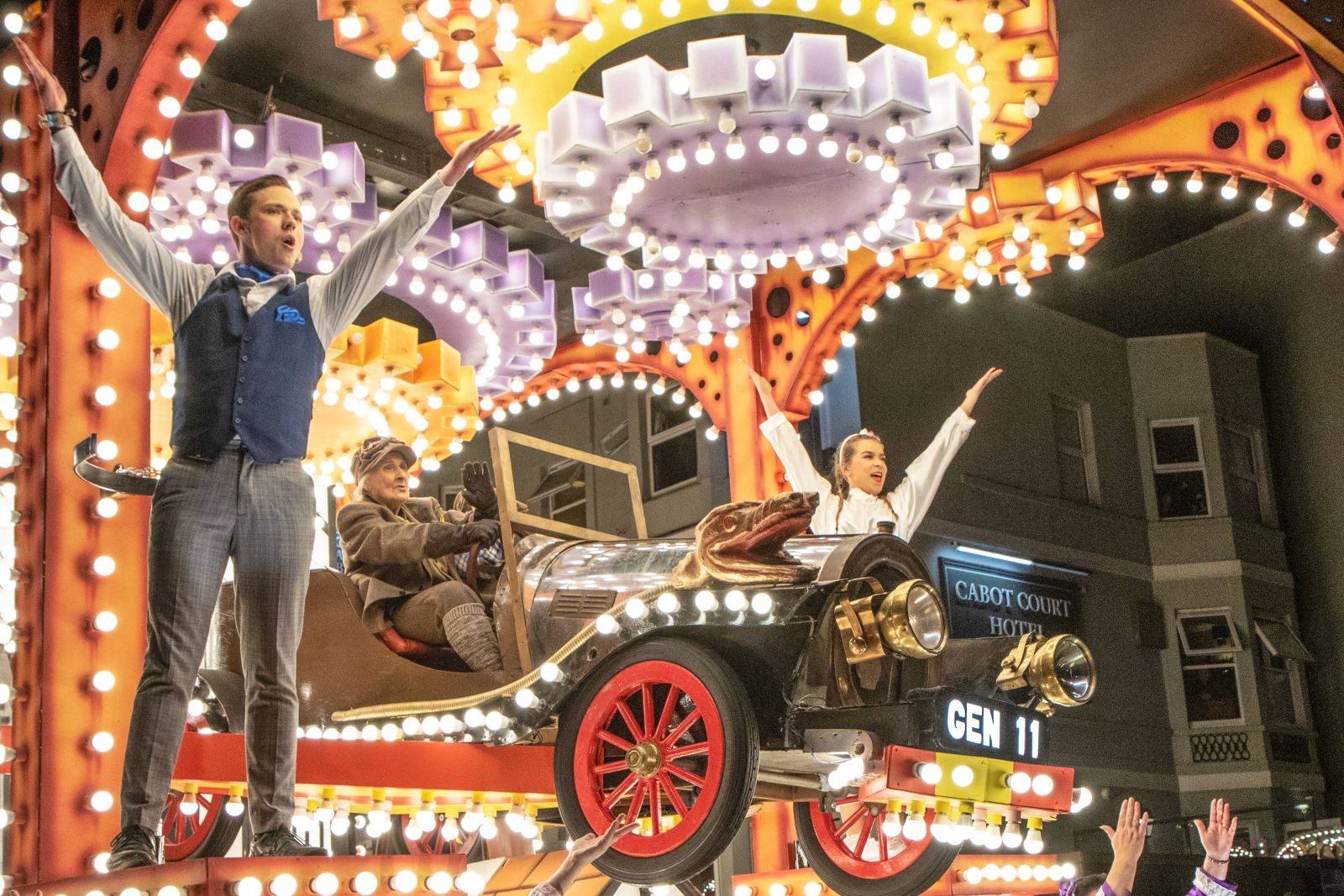 Car parking
There is easy parking all along the seafront and you might be lucky enough to be able to park on the beach itself. You could not ask for more convenient parking, just imagine, you can leave bulky items in the car and just nip back as and when you need things.
Walking and cycling
Weston-super-Mare is a walking and cycling paradise. It's a super seaside resort, perched just on the edges of the Mendip Hills and surrounded by headlands such as the National Trust's Brean Down and Worlebury Hill that both offer beautiful walks and views. Sand Bay and Sand Point are also close by, a 2 mile bus or car ride north of Weston Bay, where dog walking and horse riding are permitted year round.
There are walking trails of the town to enjoy spotting Blue Plaques, street art and architecture. Weston-super-Mare is also blessed with many parks just close to the seafront. Grove Park is near the Blakehay Theatre and the Playhouse Theatre and hosts music makers and concerts at weekends in the summer months from a wonderful, Victorian bandstand. Ellenborough Park and Clarence Park are also just off the seafront, both offering quieter options for those who want to picnic or people-watch away from the sandy beach.
Whether you're looking for accommodation, things to do, what's on or places to eat and drink, we've got you covered here at Weston-super-Mare.
So, are you ready? Okay, let's get started; what is it you're looking for?
Where to stay
Things to do
What's on
Places to eat and drink