Weston-super-Mare, the seaside heart of North Somerset.
Welcome to the official destination website for the original British seaside resort of Weston-super-Mare.
We are so proud of our North Somerset town and its two-mile long sandy beach that we want to share it with you.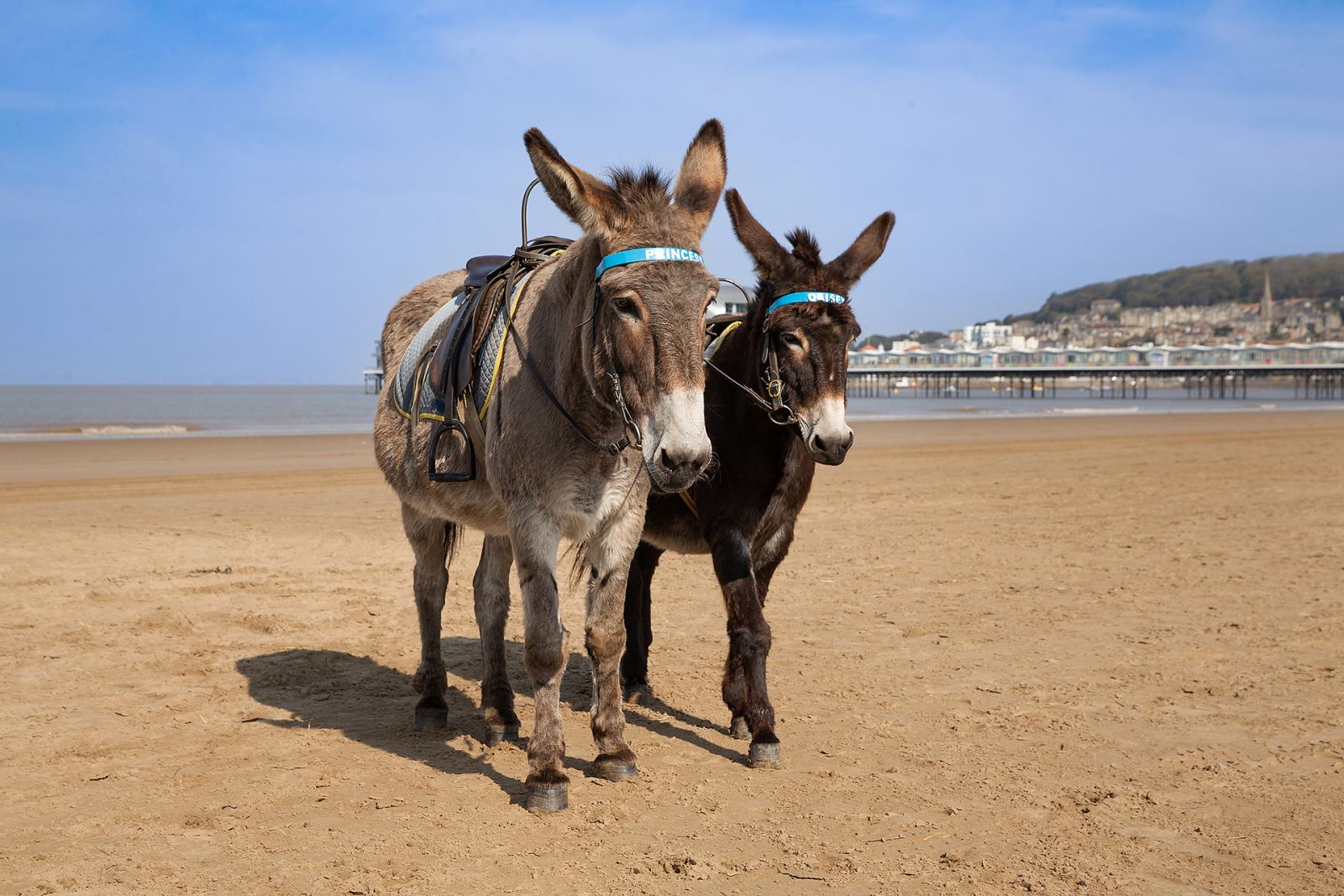 The town has reinvented itself from its Victorian beginnings. It still offers the traditional favourites like the donkey rides and amusements but it has also undergone a renaissance with new restaurants and attractions, so, even if you have been here before, you might not recognise it from your childhood memories.
There's so much to do
Weston offers so much for everyone including two theatres and two cinemas. We've also got the world's largest helicopter museum with more than 100 amazing exhibits on display in an undercover hangar.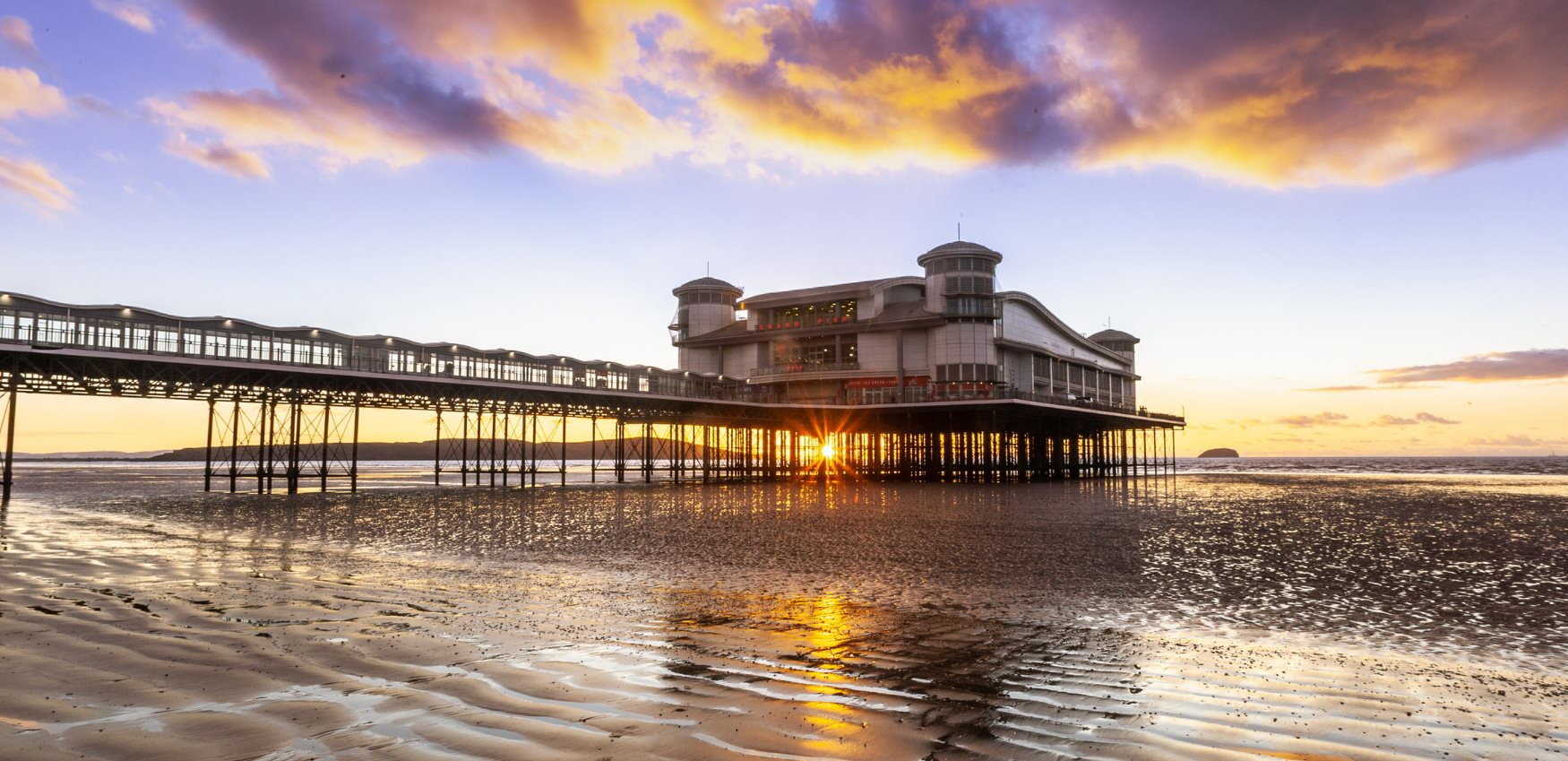 You mustn't miss our Grand Pier which is a kaleidoscope of fun, stretching out to sea. Here you can enjoy all the usual arcade favourites, such as dodgems, go-karts, laser challenges and even have a go on Britain's smallest rollercoaster ride which packs more of a punch than you might imagine!
We've also got a bowling alley, as well as indoor and outdoor crazy golf which means you can compete in that great family leveller whatever the weather. Or you can try the real thing at Weston Golf Club.
It's a little known fact that Weston is popular with climbers – many of whom like to test themselves on the cliff at Uphill. Weston has also got the magnificent Clip 'n Climb indoor climbing experience, complete with the highest vertical drop slide in the UK to get the adrenaline pumping. Visit here for more on Weston's sporting scene including Blokart racing, pictured below, as well as wind and kite surfing when a breeze whips up.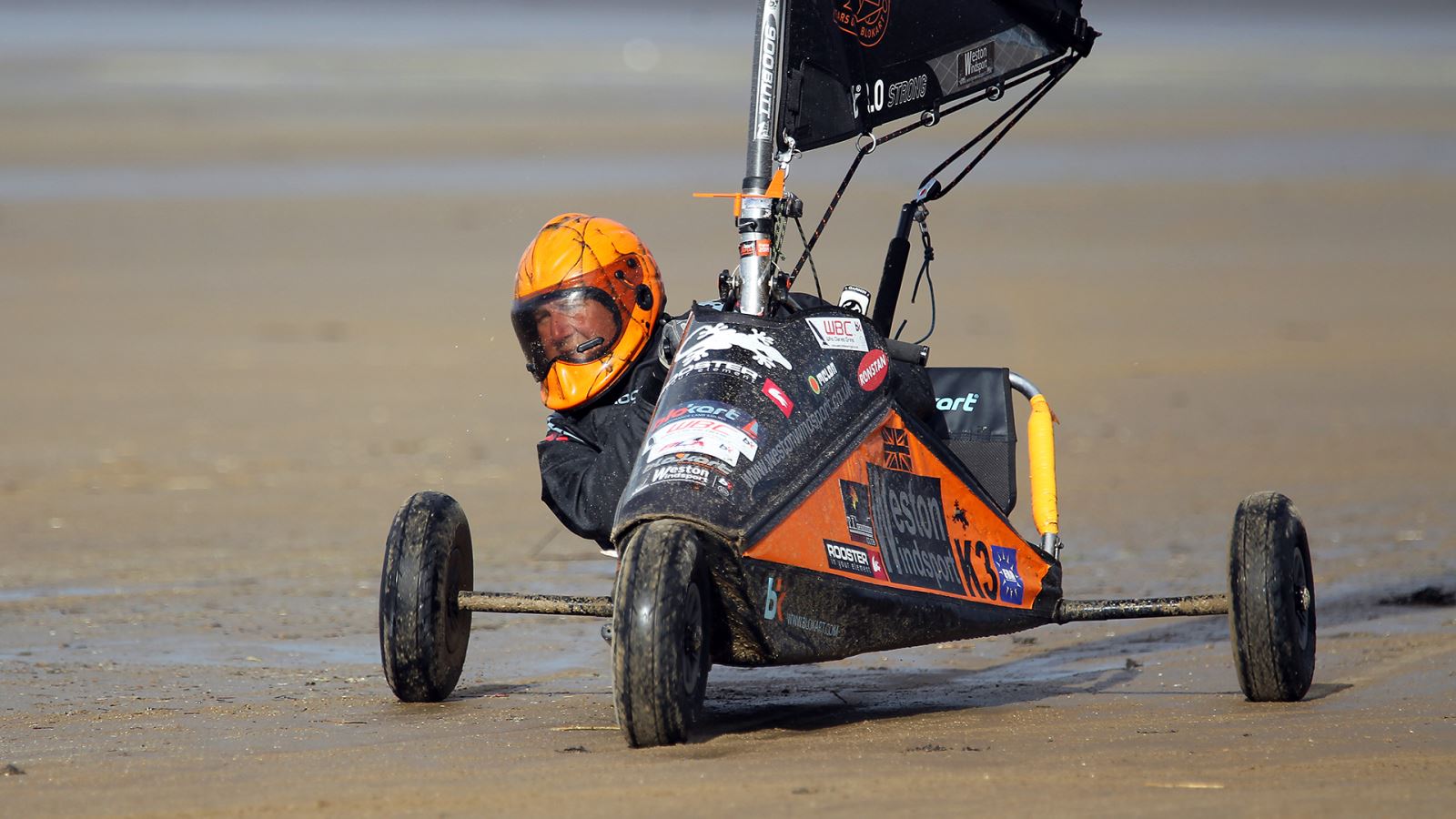 Banksy's pinwheel, pictured below, is one of the attractions at our super-fun but still educational Weston Museum. Here you can try on items of vintage clothing such as a swimming hat similar to the one worn by Weston's four times Olympic gold medallist Paulo Radmilovic. Also, keep an eye on our what's on section because there's always plenty of activities, events and special exhibitions throughout the year.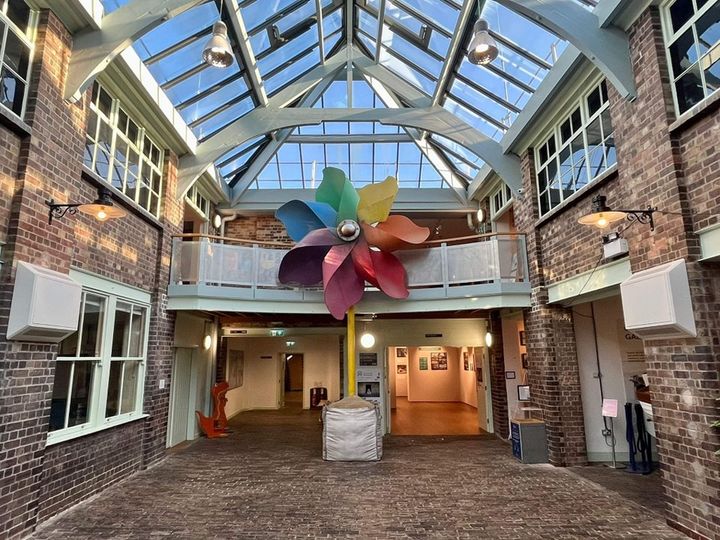 We've also got a massive outdoor gallery of street art so, if you turn the corner, you may find yourself immersed in an underwater scene or be confronted by a giant cockerel looking down at you!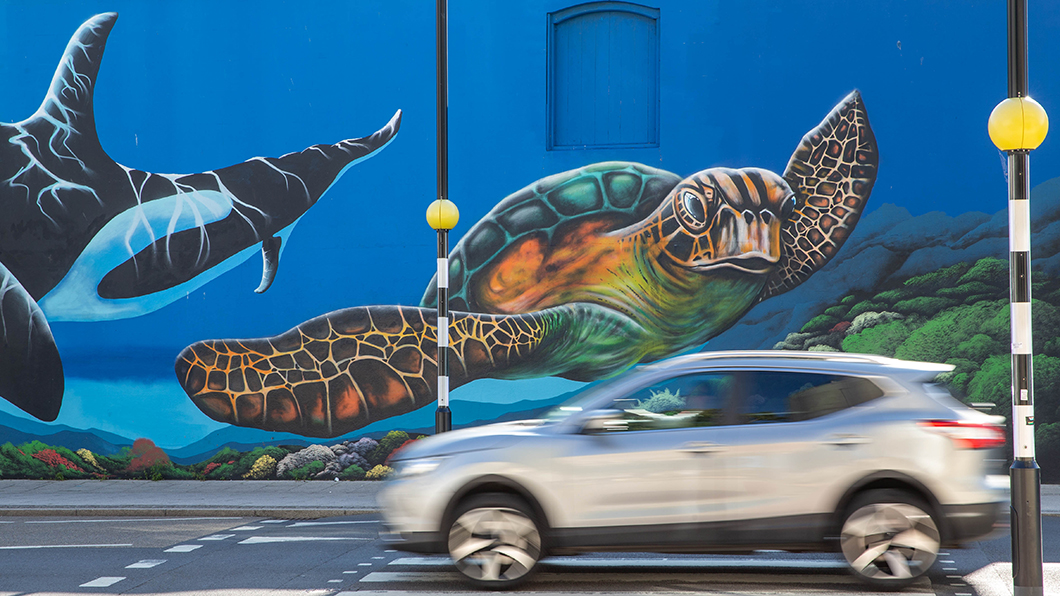 We've got cafes, restaurants and bars to suit every taste and our seafront is conveniently close to the town centre with its many independent shops. We've got a long flat promenade with plenty of benches and seats so you can take a rest whenever you want and milk in the view as you look out to the islands of Flat Holm and Steep Holm.
Getting here
Travelling here couldn't be simpler. Weston-super-Mare is easily accessible by road, bus or train and we're just 20 minutes or so from Bristol Airport. We're just off Junction 21 of the M5 20 miles southwest of Bristol and the M4 interchange. There's a central train station, a central bus hub that services all local and National Express buses. We're within a couple of hours' drive from the Midlands and West London, an hour's drive from the Cardiff area and a great place to stop off instead of making a long drive into the Devon and Cornwall peninsula.
Our beach
There is space for everyone on our amazing sandy beach which looks out across to Wales with the islands of Flat Holm and Steep Holm in between. So if you just want to sit in the sun and admire the view that's fine, or alternatively you can build sandcastles or enjoy games of cricket and football as well as enjoying our traditional donkeys.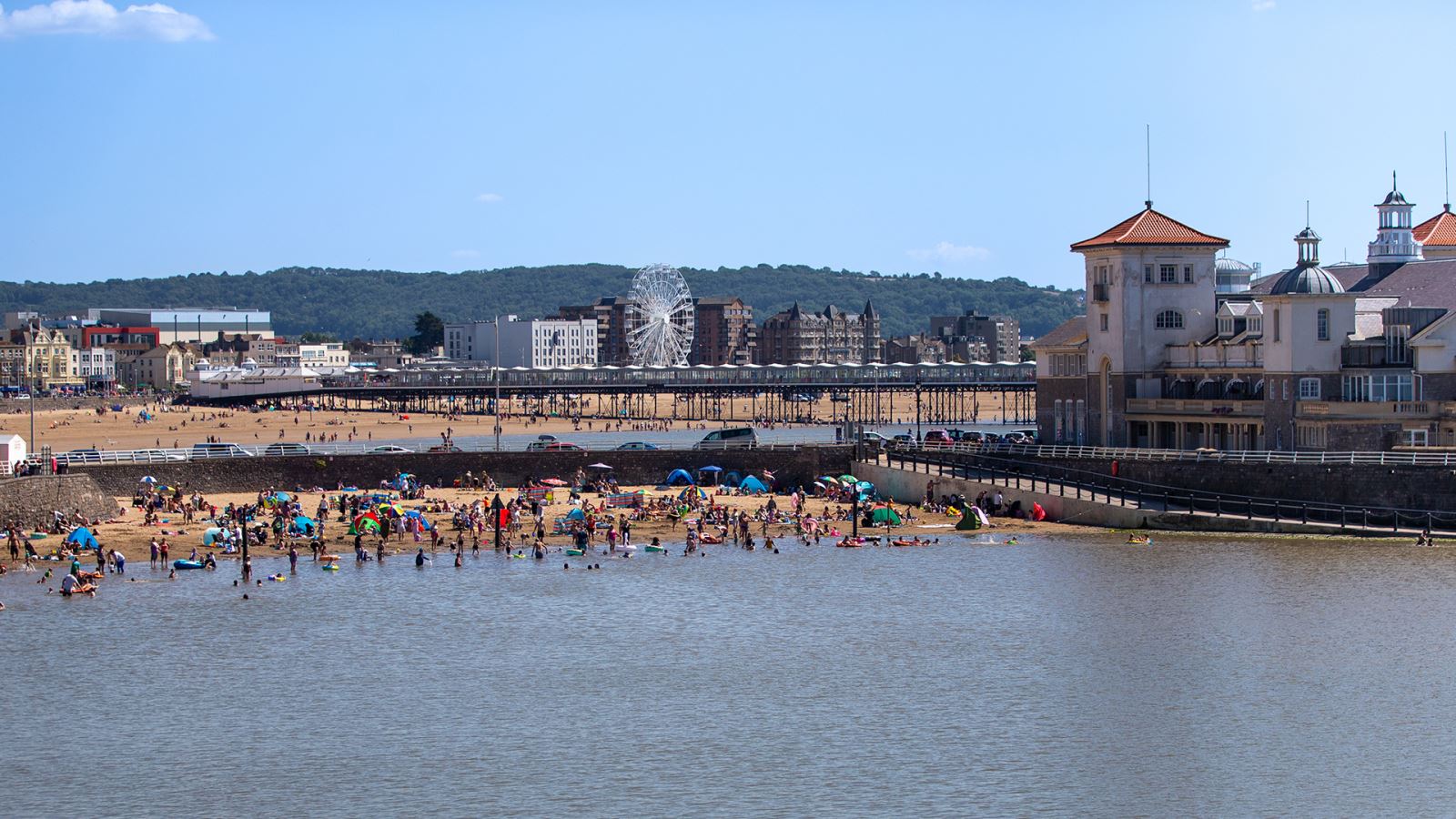 You might also know us for our dramatic tides, the second highest tidal range in the world. Marine Lake was renovated in 2022 and offers the perfect spot with its own sandy beach for sea water swimming, paddling and gentle watersports even when the tide is out. Every day, the water is replenished by the natural tides and it's always there! Here's the link!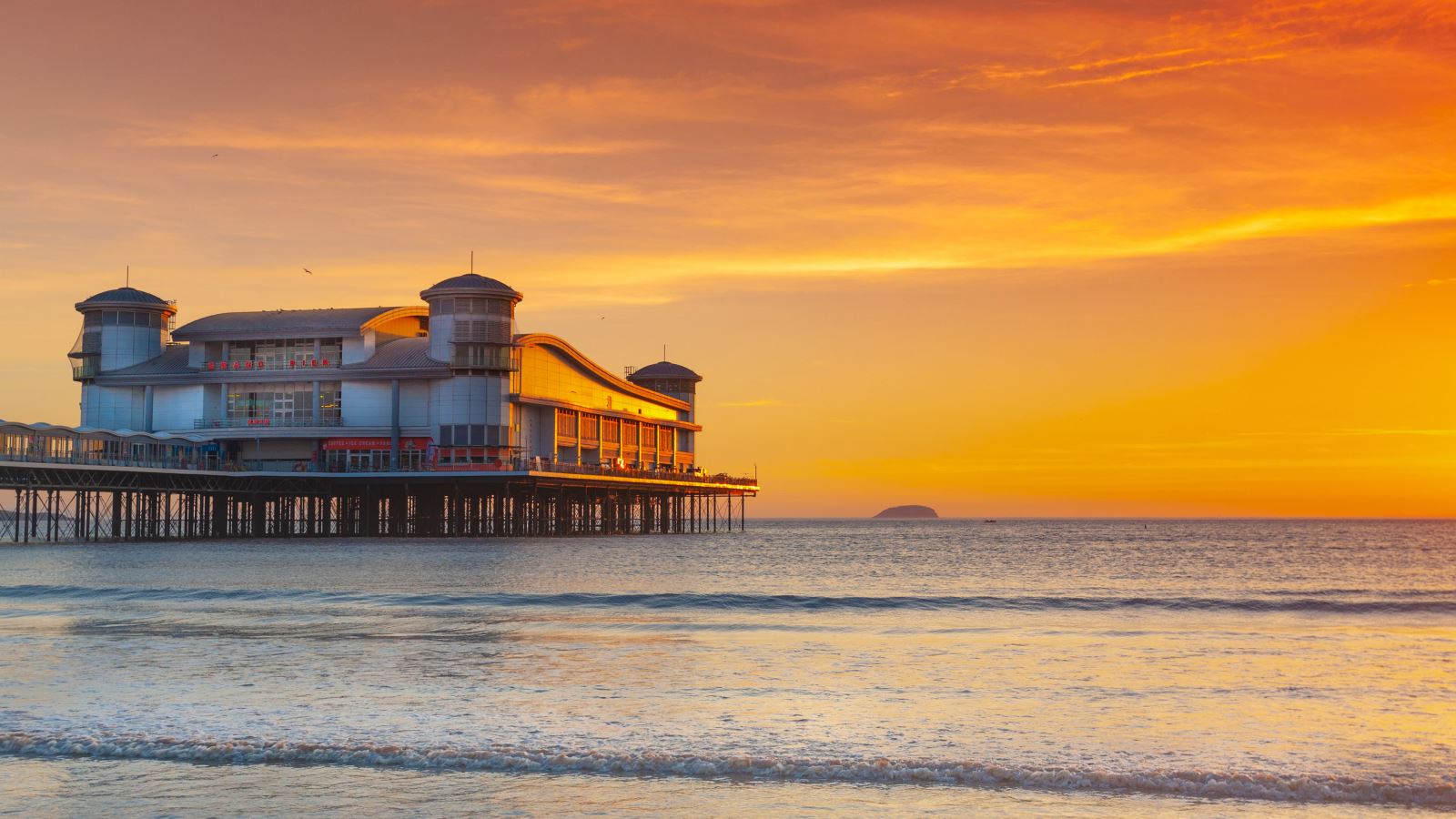 A wide choice of accommodation
There's a choice of accommodation with hotels, guest house B&B's and delightful self-catering apartments throughout the town, many of which are on the seafront. You're sure to find something to suit your budget and your requirements plus you have the comfort of knowing that all properties promoted on the visit-westonsupermare.com website have been quality checked.
Many accommodation providers are dog friendly and dogs are permitted on the long beach year round, with dedicated areas in the summer months.
What's nearby?
Weston-super-Mare is at the perfect gateway to all the attractions that Somerset offers. You can spend your holiday at the beach and if you want a change, let public transport take the strain to explore the delights of what we think is one of the prettiest English counties.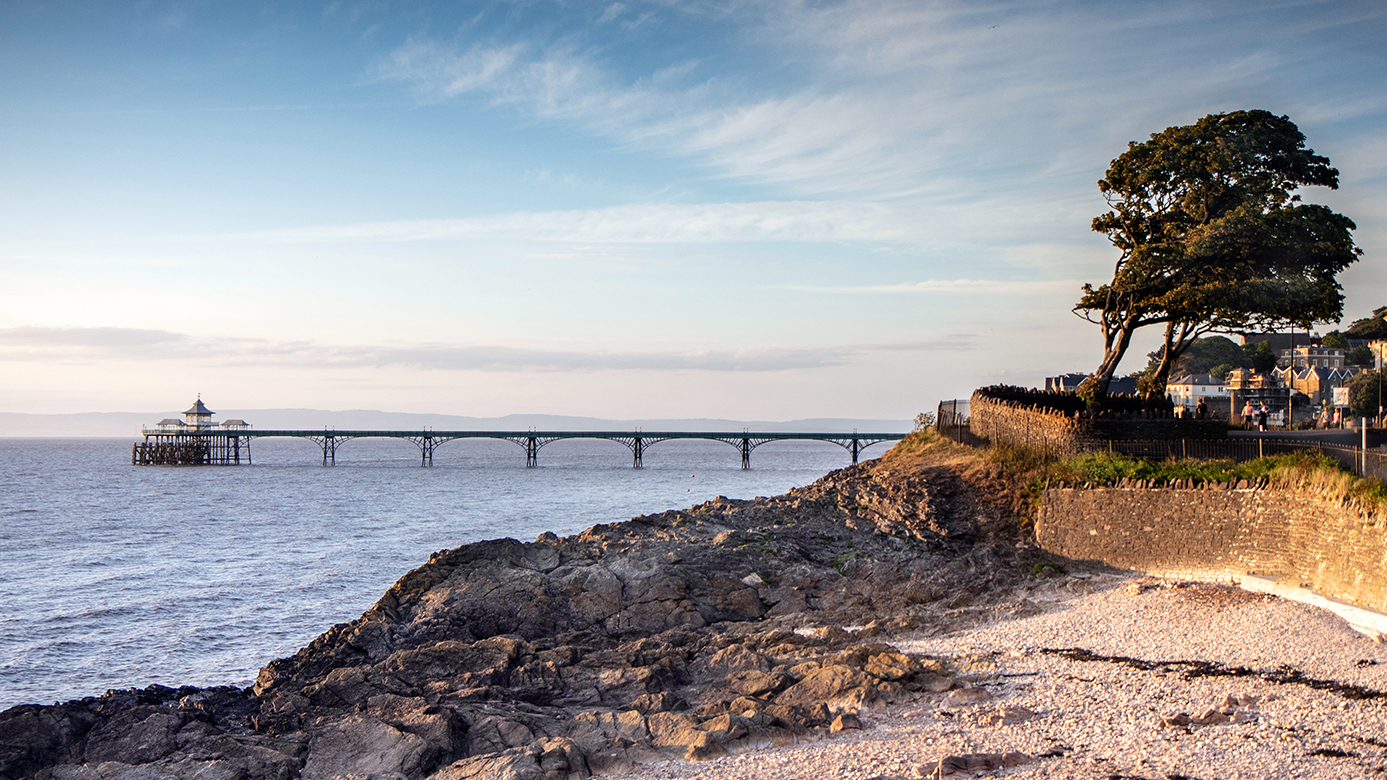 The picturesque town of Clevedon, pictured above, with its Grade I listed pier is 30 minutes away, in 45 minutes you can be in Portishead, where you can unwind and dine out by the vibrant marina. The spectacular landscapes and caves of Cheddar Gorge are 12 miles away, the vibrant city of Bristol is within 25 minutes by train. Or venture further afield to many iconic tourist spots including Glastonbury, Wookey Hole, or Wells, all within an hour's drive.
Annual events
Annual events such as February's enchanting GLOW Festival, pictured below, the Harbor Lights Elvis Festival, Armed Forces Day in June, Pride in July, RHL Enduro Beach Race in late Autumn and the Weston Carnival in November ensure that there are always things to do in Weston-super-Mare, regardless of the weather, season or budget.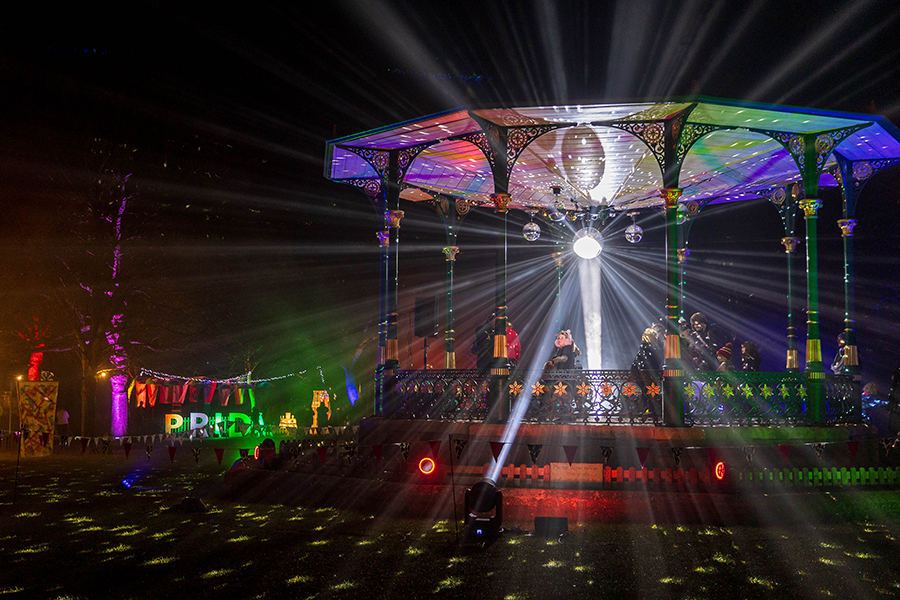 The Blakehay Theatre is centrally located and appeals to fans of performing arts from all generations. Around the corner is The Playhouse Theatre that often showcases tribute bands and West End names. Live music is a regular feature at many of our hotels and bars.
The seafront Water & Adventure Play Park with adjacent car parking is open year round as an adventure park and seasonally with water splash features. It's free to enter with a reasonable £3.00 charge per child when the water features are in operation, lots of grass seating and a café. Adults accompanying children enter free of charge.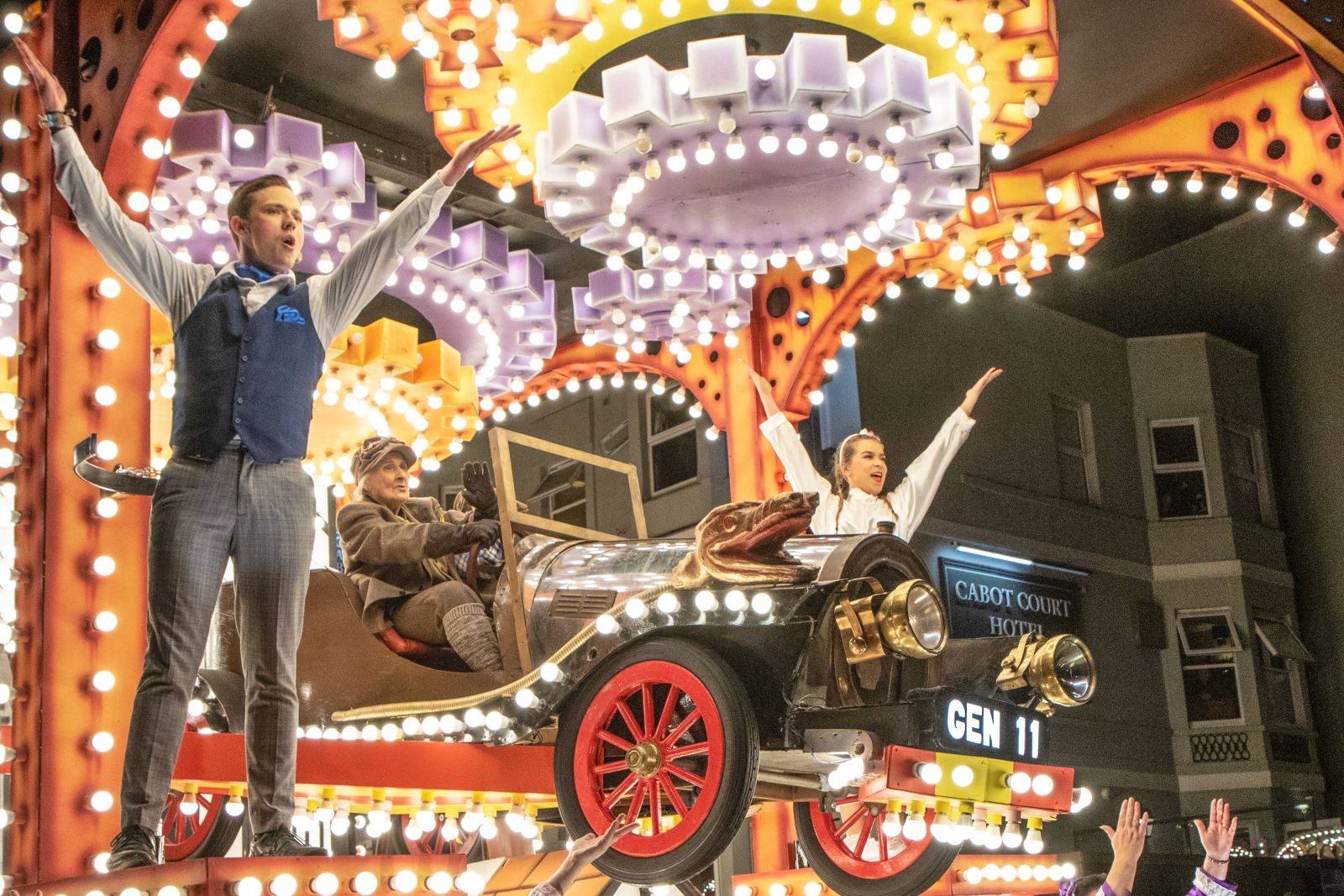 Car parking
There is easy parking all along the seafront and you might be lucky enough to be able to park on the beach itself. You could not ask for more convenient parking, just imagine, you can leave bulky items in the car and just nip back as and when you need things.
Walking and cycling
Weston-super-Mare is a walking and cycling paradise. It's perched just on the edges of the Mendip Hills and surrounded by headlands such as the National Trust's Brean Down to the South and Worlebury Hill to the North. Both offer beautiful walks and views. Sand Bay, where dog walking and horse riding are permitted year round, is close by. You can get there by taking one of the many paths through Worlebury Woods or by taking a two-mile bus or car ride north of Weston Bay.
There are walking trails of the town to enjoy spotting Blue Plaques, or street art and architecture. Weston-super-Mare is also blessed with many parks close to the seafront. Grove Park, pictured below, is near the Blakehay Theatre and the Playhouse Theatre and hosts music makers and concerts at weekends in the summer months from a wonderful, Victorian bandstand. Ellenborough Park and Clarence Park are also just off the seafront, offering quieter options for those who want to picnic or people-watch away from the sandy beach.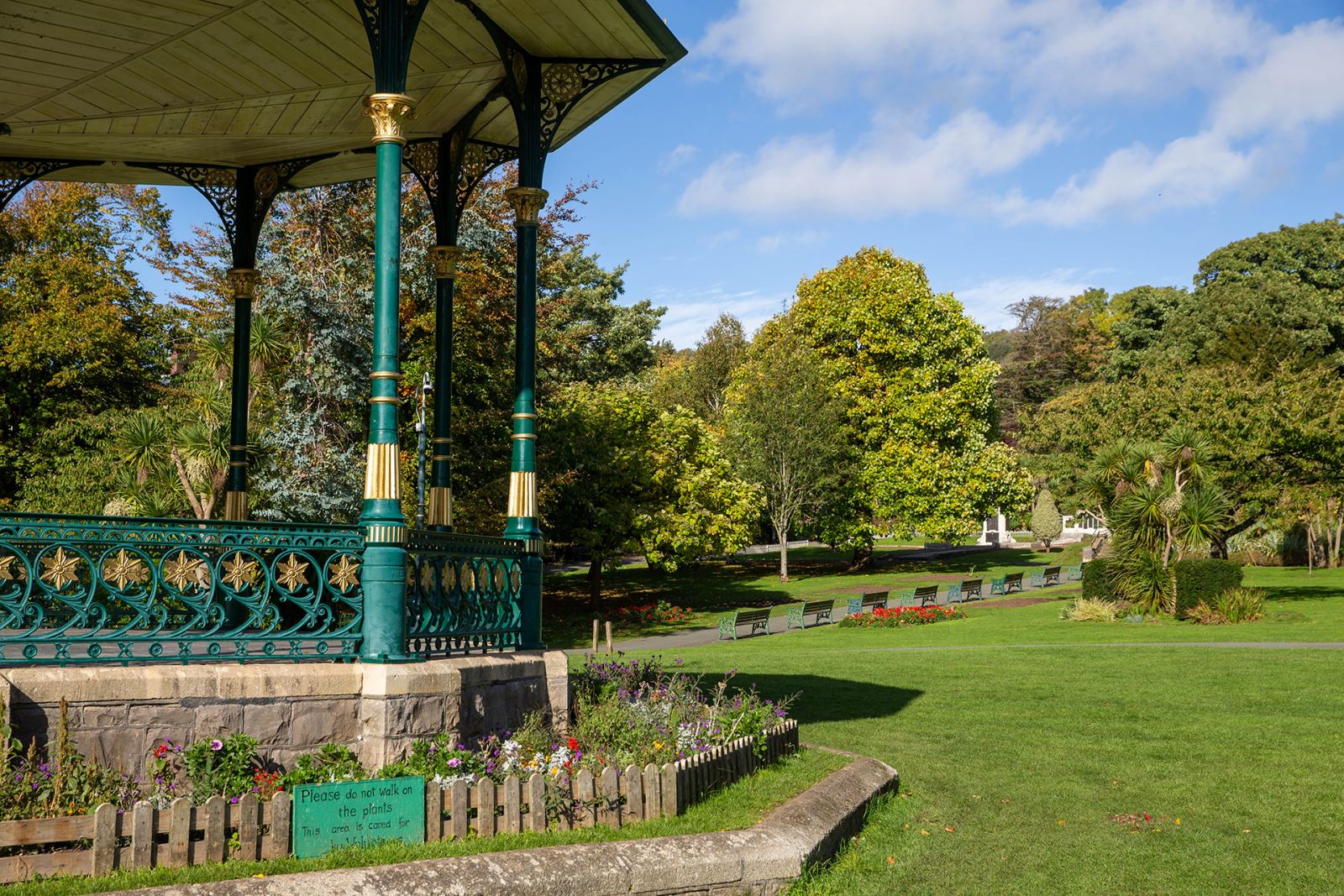 Whether you're looking for accommodation, things to do, what's on or places to eat and drink, we've got it covered here at Weston-super-Mare.
So, are you ready? Okay, let's get started; what is it you're looking for?
Where to stay
Things to do
What's on
Places to eat and drink