Whisper it quietly because it is one of our best-kept secrets, but Weston-super-Mare makes a fantastic base for a walking holiday far away from the hordes who rush through to visit Devon and Cornwall. There's also mountain bike trails, climbing and watersports to enjoy. For a look at those options click here but if you are a walker please stay on this page.
If you are staying in Weston, you can step straight out of your hotel to start enjoying fabulous walks to the north or south while all the time milking in the panoramic views out across the Bristol Channel to Wales.
If you only do one walk during your time in Weston-super-Mare then make sure you do Brean Down, pictured below, It's an exhilarating three-mile trail and the views from the top out across the Channel to the islands of Steep Holm and Flat Holm are spectacular. It's a steep climb, around 200 steps, from the National Trust car park at Brean at the bottom but, wow!, it is worth it. The views across Somerset and up and down its coastline are picture-postcard. At the far end, there's the historic and well-preserved Palmerston Fort which is where the bouncing bomb was tested. The rails to launch it are still there. Meanwhile, on breezy days you will be mesmerized by the waves battering the rocks. It's a truly stunning walk. Here's how you can experience Brean Down - one of the south west's top circular walks. There's toilets at the bottom and a couple of cafes as well as two car parks, one of which is National Trust.
Lace up your boots and step straight out of your hotel or B&B onto the eight-mile-long Brean Down Way the giant limestone rock which some say looks just like a whale. This walk starts from Weston's Grand Pier and goes to the tip of Brean Down, see above, but you can shorten it by taking the bus to Uphill or the number 20 service to Brean. The walk takes you out along Weston's promenade through to the pretty village of Uphill with its cliffs, marina, historic beacon and St Nicholas Church which sits on top of the cliff but despite its position it doesn't have a roof protecting its nave. The route, which is shared with a cycle path, then meanders through nature reserves before ending up at Brean. There are cafes and pubs along the way.
For views and spectacular scenery this walk rivals our very top recommendation Brean Down - indeed many would say it is even better. We suggest you do them both and make your own own mind up. The walk starts on the beach at Sand Bay and climbs onto the headland at the northern end of the beach. It's a three-mile circular walk which rewards you with beautiful varied scenery, some picture perfect rocky coves to drop down into for an away-from-it-all picnic as well as a majestic hill where you can feel on top of the world and experience some of the finest coastal and inland views that Somerset has to offer. Here's how to experience Sand Bay, Sand Point and Middle Hope by foot. There's three car parks in Sand Bay, one each at the far ends, the northern end is National Trust, and one in the middle which has toilets and is from where the number one bus to Weston starts and picks up. There's also cafes on the road just behind the sand dunes. Sand Bay beach itself is an all-year-round dog-friendly beach.
Weston Woods and Worlebury Hill Fort
Weston Woods which overlook the northern end of town are popular with strollers, dog walkers and ramblers. There's a maze of paths within the woods so it is easy to freestyle a walk to suit your own fitness.The woods can be accessed from many different ways but if you're on the seafront perhaps the easiest is from Trinity Road from where there is a stepped path into the woods at the Worlebury Fort End. From there you get nice views back through the trees over Weston's bay and looking from the top you can also get nice views over towards Birnbeck Pier. Once you're on the top facing the fort you can head right past the water tower which carries a blue plaque marking when former American President Dwight Eisenhower once slept in a caravan in 1944 en-route to the D-Day landings as part of his role as Supreme Allied Commander Europe. As you face the water tower several paths lead off it and if you take the one heading downhill to your right you will be able to enjoy a circular walk back into Weston. It will meander down through the woods to the tip of Kewstoke from where you will turn left to pick up a nice clear path that runs through the bottom of the woods, close to the road, and with nice views out across Sand Bay. If you're doing this at a weekend, take time to stop and watch the daredevil bike riders as they navigate the terrifying-looking Sand Bay Dirt Jumps.
Uphill
Stroll along Weston's famous long flat promenade and, as you face the sea, walk left on the sand to reach the pretty village of Uphill from where you can take one of the many footpaths up onto the cliff to gain access to the viewing tower for expansive views all across Somerset and out to Wales. Here you can also see the fascinating St Nicholas Church which doesn't have a roof on its nave. Click here to see some of the walks you can do from Uphill.
Bleadon Hill and Loxton is a four-mile walk that's close to Weston-super-Mare. Participants will experience 360° views from Bleadon Hill out to Crook Peak, the Somerset Levels and the Bristol Channel. Or you could opt for the seven-mile Bleadon Hill walk.
Alternatively, if it is a more urban feel you want, follow this map to experience the massive free art gallery that is Weston Wallz – a stunning art project highlighting the work of some celebrated street artists. Click here for a link to a handy map.
Alternatively, head north and meander through Weston Woods which hug the shoreline all the way to Sand Bay from where you can climb up onto the headland to Sand Point and Middle Hope to enjoy rolling hills and delightful rocky coves. Follow this link here for walk details. This walk can be shortened by driving to Sand Bay or by catching the Number One bus from Weston-super-Mare.
Further afield to the Mendip Hills, Crook Peak and Cheddar
For a really spectacular walk head to Cheddar Gorge and take on this route here which will feel further than the four miles it is listed as - but the views, which will stay in your memory make all the effort worthwhile. You will see goats clinging to the cliffs as you experience one of England's most dramatic landscapes from all angles on this challenging but hugely rewarding walks in this Area of Outstanding Natural Beauty and a Site of Special Scientific Interest. This is about as stunning as it gets with awe-inspiring cliffs and jaw-dropping stalactite show caves.
Crook Peak is the second highest peak in the Mendip Hills and makes for a superb ramble across a craggy ridge with spectacular panoramic views. The peak itself looks almost mountainous and rewards you with spectacular views all round out across the levels to Glastonbury Tor and beyond, over to Weston, the Mendip Hills and out across the Somerset coast. On clear days you can even see the Black Mountains in Wales. There are some stiff climbs but that just gives you an added excuse to stop a little longer and milk in those wonderful views of patchwork fields and dry stone walls. It's little wonder that the BBC's Countryfile featured it in their magazine. Here's their guide and suggested walk directions. Their option is a four-and-a-half mile walk. There are several paths so it is also pretty easy to freestyle your own walk around the peak. Kings Wood carpark is at one end of Wavering Down which has a path over to Crook Peak which is two-and-a-quarter miles in one direction. Alternatively you can park in Cross which is at the Crook Peak end and from there it is a short-ish but steep climb to the summit.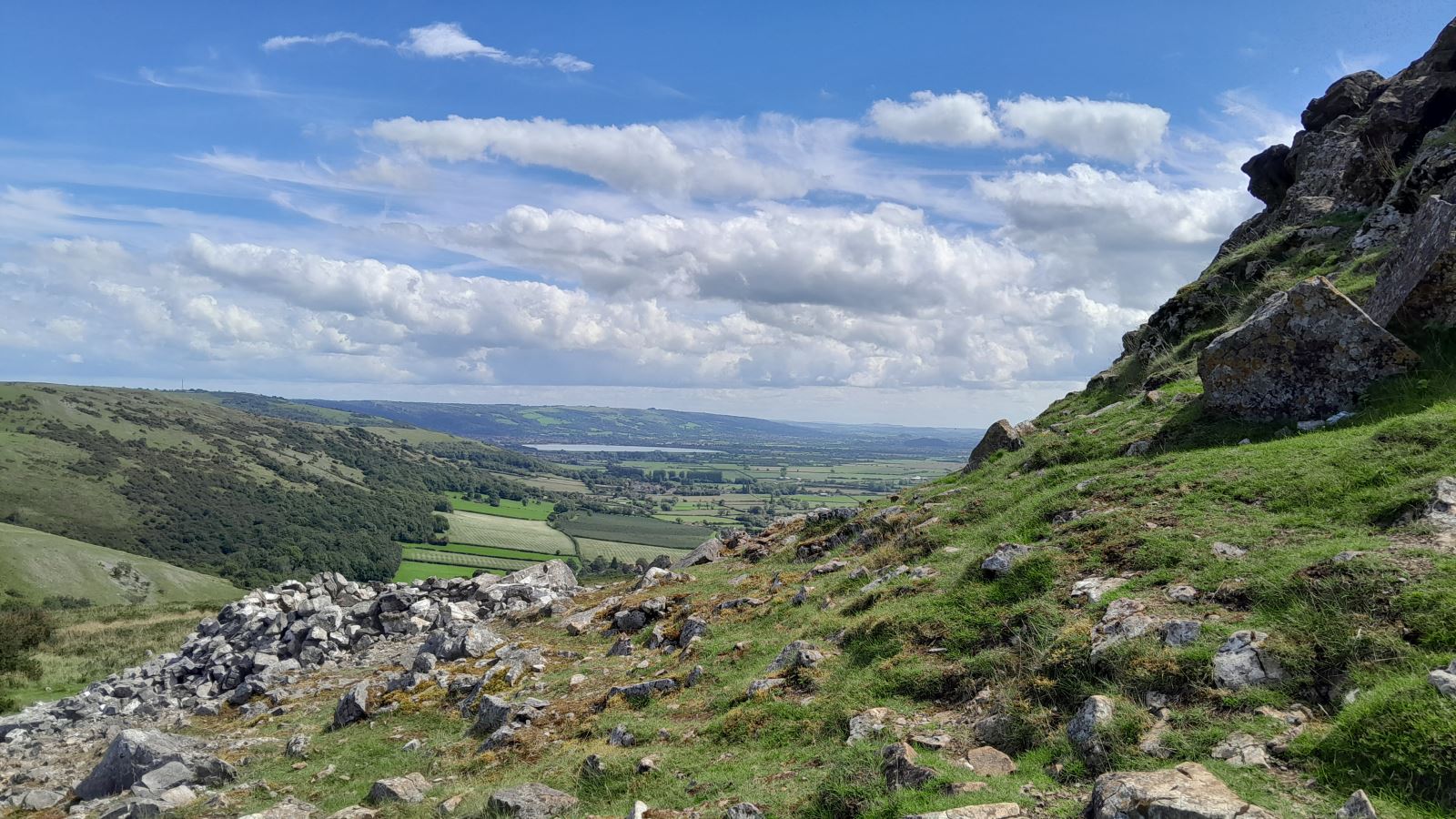 Black Rock
The BBC's Countryfile certainly know a good walk when they see one. Not only have they singled out Crook Peak, see above, but they have also picked out Black Rock. This is another walk that can be extended if you desire to take in Velvet Bottom and beyond on the other side of the lane should you wish.
Clevedon
If sea views are your thing, Clevedon offers fantastic coastal walks in both directions. Poets Walk is a lovely fairly easy circular walk which takes in some cracking views. It's a tranquill leisurely stroll of around 1.5 miles which is punctuated with benches at good viewpoints. The walk which does include a hill, can easily be extended at either end. At the southern end you could walk out along the sea wall which is a nice flat out-and-back walk which hugs the shoreline. Alternatively, at the Clevedon end of town, you could extend your walk along the promenade taking in Clevedon's historic Victorian pier.
Clevedon to Portishead coast path
This six-mile walk is also known as Lovers Way and we're sure you will love this walk which offers excellent views of the Severn Estuary. On it's way to Portishead, the walk takes in the beautiful pebbly Ladye Bay beach which presents you with some superb views back to Clevedon Pier. As coastal walking goes, it's relatively easy with no huge ups-and-downs. The walk also takes in the intriguing Black Nore Lighthouse which looks like a space ship or something from a sci-fi film set. If you want to see another bizarre-looking lighthouse then continue your walk when you arrive at Portishead Lake grounds and head for the brightly coloured Portishead Open Air Swimming Pool at the far end of the beach. There upon Battery Point you will see Battery Point Lighthouse. If you continue to walk up the hill the landscape changes with views out towards Avonmouth Docks. There are plentiful cafes, pubs and parking at both ends of this walk.
Brent Knoll
Brent Knoll is perhaps one of the most obvious places to walk in the whole of the south west. The Iron Age fort sticks up as a giant hill all on its own in the middle of flat countryside and will be known to any motorist who is familiar with the M5 South of Weston. It's location begs you to climb it - but it is often overlooked by walkers and walking books despite it's amazing landscape on the top and its immense views which will have you reaching your cameraphone. Even if you just climb the hill - which is a steep climb and can be quite slippery when wet - it is worth the effort. It's as close as you can get to feeling that you are looking down on the world from an aeroplane window. You can park in Brent Knoll Village Hall car park and make your way to the footpath by the side of the church. If you want more than just a climb to the top and back walk head down the other side towards East Brent to make a rewarding three-and-a-half-mile walk. Here's the Sedgemoor Ramblers guide for the Brent Knoll to East Brent circular walk. It's a 3.4-mile walk and walkers who normally use poles will want them.
The Mendip Hills is a walkers' paradise. You are spoilt for choice here. There are so many good and varied walks and all are within a short drive from Weston-super-Mare. Luckily our friends at www.mendiphillsaonb.org.uk/walks/ have compiled this super guide showing a wide range of walks ranging from easy to challenging, and you'll not regret visiting their website. It covers walks such as this five-mile Black Down walk which certainly gets the Visit Weston thumbs up. We also love this Blagdon and Burrington Ham three-and-a-half miler.
We're not suggesting for one minute that should try and walk this in one hop but it is a good walk to split into sections. The first section is pretty handy for Weston too as it starts at the Uphill Sluice before finishing at Loxton, six-and-a-quarter miles later.
Brean to the SS Nornen shipwreck
This is a walk done entirely on the beach from Brean to Berrow and if you want to see the shipwreck it has to be done at low tide when the stricken ship's bones stick out of the sand. The Norwegian vessel became unstuck in the great storm of 1897. All the crew and their dog were rescued. Even at low tide this walk does come with a hazard warning, the sand around the vessel and that far down the beach can be very soft - so definitely don't wear your expensive training shoes to do it. There is car parking and two cafes at the Brean Down end of the walk. If you're feeling fit you could walk beyon the wreck and do the full six-and-a-half miles along the sandy beach to Burnham. The extension is worth it. Before you reach Burnham you will come across the Burnham Lighthouse which sits on stilts in the sand and looks something like a giant Punch and Judy stand. Then if you continue into Burnham, from where you can catch the number 20 bus back to Weston, you will see England's shortest seaside pier.