If you want theatre and entertainment you have come to the right place because, with four theatres in the town, it is another thing that Weston-super-Mare does rather well.
Theatre and the arts is a big part of life in Weston-super-Mare and there is usually something on most nights of the week. In addition to our four indoor venues, there are plenty of outdoor performances throughout the year so keep an eye on our What's On events calendar to make sure you don't miss out.
The Blakehay Theatre is an intimate 200-plus seat venue at the heart of Weston's cultural life and like The Playhouse it sits in the Grove Village entertainment quarter of town and showcases locally produced as well as touring shows.
The Wadham Street venue has a busy dance studio and the theatre's main house, box office, toilets and bar are fully accessible to all and assistant dogs are welcome to the theatre.It also frequently hosts smaller shows in its bar area.

Front Room The Front Room is a brand new fringe theatre in Weston-super-Mare with an awesome line up of shows in an amazing intimate venue run by a great team. The venue itself is a former pizza restaurant so while you may be sitting on chairs and sofas from the restaurant you will be able to gorge yourself on a rich feast of very competitively-priced entertainment.
The shows are more varied than you could imagine - with theatre, comedy, cabaret, story telling - all on the regular roster as well as the regular Weston-super-Laugh comedy shows.
Many of The Front Room's events are priced on a pay-what-you-want strategy with a minimum donation suggested.
Once you've discovered this venue at 13 Central Walk, the chances are that you will want an even bigger 'pizza the action' and be back for second helpings!
Theatre in the Hut
The Theatre in the Hut is exactly what it says it is - a tiny theatre in a hut.
It doesn't really matter what you go to see because a large part of the experience is this quirky little 58-seat venue - luckily though the shows they put on there are pretty impressive as well.
It doesn't look much from the outside - a nondescript shed tucked away in Colonel Stephens Way, Weston-super-Mare, BS23 2SW - but behind those doors is a wonderful theatre experience with friendly staff, an excellent cast as well as a bar and toilets.
With such a limited capacity and such a well-deserved excellent reputation, early booking is advised for productions here. See www.theatreinthehut.com
Playhouse Theatre
Situated conveniently at 126-130 High Street, in the heart of the Grove Village entertainment quarter, The Playhouse hosts around 350 performances a year and pulls in some big-name stars as well as an annual audience of more than 100,000 people.
It boasts an excellent and diverse range of quality events encompassing drama, musicals, comedy, ballet and live music as well as its annual laughter-filled pantomime which regularly sells out.
The theatre boasts a 664-seat auditorium as well as accessible features including; flat level access to the foyer, a platform lift to the stalls, an accessible toilet, a low level box office counte and a hearing loop system. Guide dogs are permitted. To find out more see www.parkwoodtheatres.co.uk/playhouse-theatre
One of the reasons why Weston is such a great hub for theatre and the arts is down to this group, Super Culture, who work tirelessly bringing acts and events to the town. Their programme is wide and diverse and their events have really helped to put Weston on the cultural map whether it is through big outdoor events such as the annual Whirligig Festival, pictured below, their enchanting Glow Festival in Grove Park or the numerous arts and drama events they support in the town.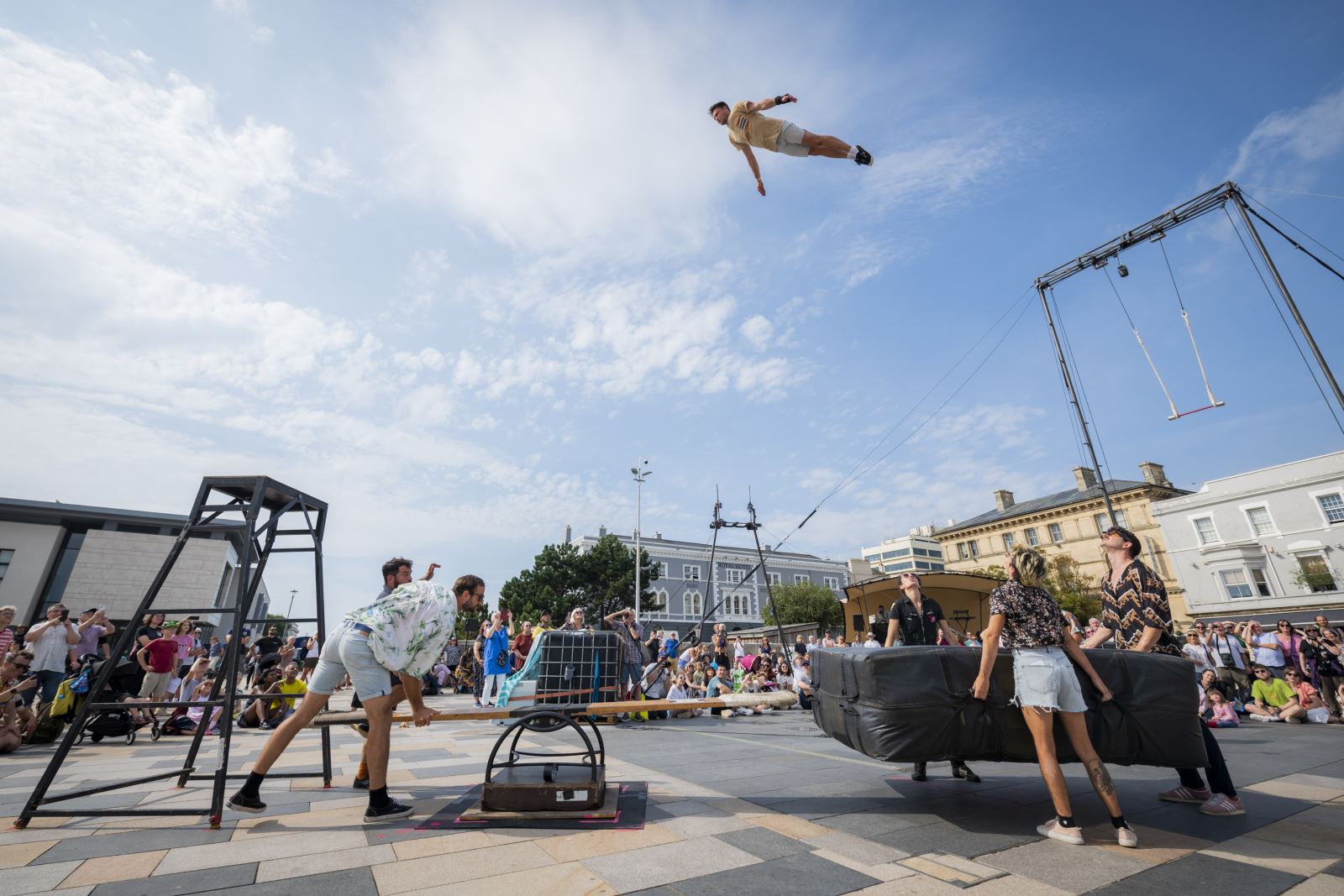 Picture by Paul Blakemore
Further afield
Just up the coast in Clevedon there are two little treasures for your entertainment.
The Curzon Cinema
Although still operating mainly as a busy cinema, this historic film house in the centre of Clevedon does from time to time host comedy and cabaret shows. Whatever your reason for going, the Curzon is a special and memorable experience all on its own. It originally opened five days after the Titanic disaster with a performance to raise money for the victims' relatives. It's steeped in history making you feel like you're rewinding into time with cinematic memorabillia dotted all around the welcome and bar areas. It is well-priced and well worth paying an extra pound to sit in the spacious newly-restored balcony with its comfortable arm chairs or twin sofas. For more see www.curzon.org.uk
The Theatre Shop
Clevedon Triangle's Theatre Shop is rather unsurprisingly an empty shop turned into an 86-seat theatre which delivers an eclectic mix of family theatre, comedy, poetry and music to this disued retail outlet. To find out more see www.theatreshop.org.uk