Weston-super-Mare is known for its fantastic entertainment scene including live music, theatre and comedy which means you don't have to stop enjoying yourself once the sun goes down.
The town boasts a wide range of entertainment options, including two mainstream theatres, a cinema, live comedy, live music and more pubs and bars than you could shake a stick at.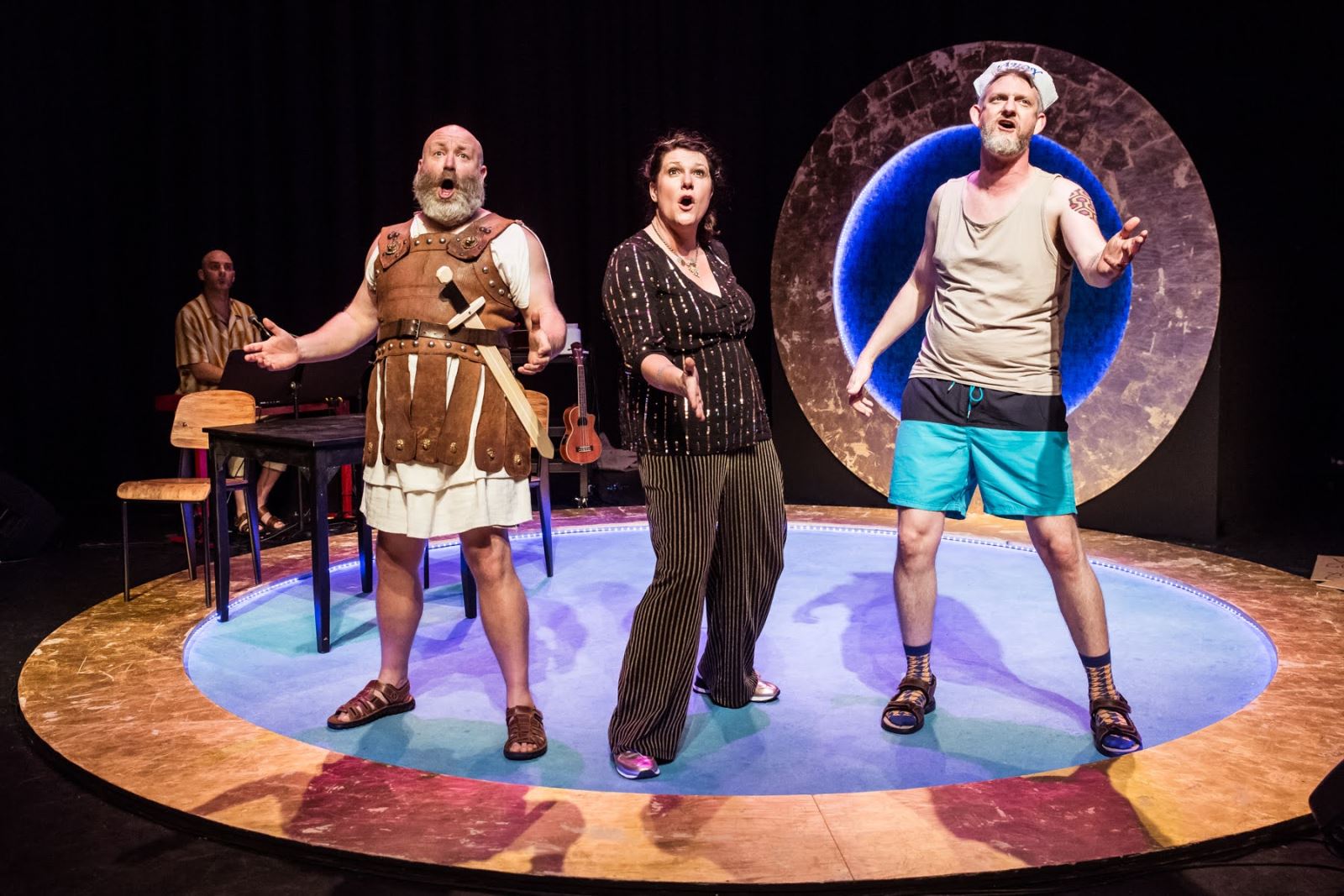 In addition to its well-known and established venues such as the Playhouse and Blakehay theatres, Weston also boasts a number of intimate and quirky fringe venues, such as the Theatre in the Hut, which is exactly what it says on the tin, a tiny 58-seat licensed venue in a hut! Then, there is the fabulous must-visit Front Room which provides music, comedy and theatre to an audience sitting on seats rescued from a local pizza restaurant.
Live Music
Live music is a major draw in Weston-super-Mare, with several bars and venues offering a range of genres.
The Brit Bar
One of Weston's most famous live music venues is The Brit Bar which is located in Grove Village in the heart of Weston's entertainment quarter. The bar offers a lively intimate atmosphere and a unique experience for visitors, with acts performing on the outdoor stage in the courtyard. It attracts some big hitters and also supports some lesser known but very good bands across a wide genre.
The Brit Bar's Yardi Gras
Every year the Brit Bar hosts its three-day Yardi Gras festival. The 2023 festival runs from Thursday, 14 September 2023 until Sunday, September 17. Some 24 bands are already booked in for the event which is a highlight in the Weston live music calendar.
Cafe Mambo Beach Party
Cafe Mambo Ibiza lands in Weston-Super-Mare for a festival level party on THE BEACH on September 9. The Ibiza brand will takeover the beach site for a day and evening of Ibiza anthems evoking memories of Ibiza's golden years and celebrating the music that makes the island the party capital of the world. For over 25 years Cafe Mambo Ibiza has become an institution, best known for its stunning sunsets, special guest DJs & parties - the Ibiza venue has become a right of passage for any reveller to experience on the magical White Isle. Taking place on the sands of Weston-Super-Mare, expect a Festival set-up, another world class line up & spectacular production with a magical sun set setting.
The Tropicana
The Tropicana hosts some spectacular musical events, with 80s and rock themed nights and DJ sets, it's always an energetic evening.
The Electric Banana
The Electric Banana in Oxford Place has a vibrant live music scene, a good atmosphere and great accoustics. The prices are reasonable, the staff are very good and the reviews are excellent.
The Regency
The Regency is a cracking little boozer with live bands most Sunday afternoons. Good ales, good food and some good music makes this an excellent Sunday afternoon recommendation. Bands normal start at 4pm.
Revo
This cafe bar/restaurant sits on Weston's third pier and commands stunning views across the beach. On Friday & Saturday evenings, from 7.30pm, and Sunday afternoons, from1.30pm, it comes with the added attraction of live music with artists usually performing at least two 45-minute sets. Their performers cover a wide range of tastes.
Raddy's Bar
Raddy's is a sports and live music bar named after Weston's four-times Olympic gold medal winner Paulo Radmilovic.
Blues Bar
The Blues Bar at 24 Meadow Street is one of Weston's newest venues and is already forging a good reputation for its live music.
The Waverley
This pub tucked away on Severn Road is something of a locals' secret but once you've found it you will also find a warm welcome and a pub with a well deserved reputation for its live music.
Winter Gardens
This striking seafront building is a popular venue for concerts and other music events - including the annual Harbor Lights Elvis Festival which pulls in visitors and performers from across Europe.
Loves Café
A small, cosy café to enjoy a cup a tea and bite to eat during the day, Loves, in West Street, comes to life after dark. As well as supporting some of Weston's own talent, the venue also supports numerous free outdoor concerts in the Grove Park bandstand.
The Stable Games Room
Just around the corner is The Stable where you can attend music and cabaret events as well as a variety of fun days and evenings.
The Blakehay Theatre
The theatre's 200 seat space provides great acoustics for any performance. As well as musical theatre productions performed by local groups, the venue hosts quality musicians.
The Playhouse Theatre
Next to Grove Park, this theatre has a huge selection of dramas, musicals and comedy shows and this theatre also attracts top musicians to Weston-super-Mare. Featuring everything from opera to classic rock performances, tribute acts as well as original bands.
The Grand Pier
The Grand Pier hosts a number of musical events throughout the year including Summer Fest which brings together the best of the local music scene. The venue is large with excellent stage lighting adding to the big concert feel.
Olea
This town centre bar does food drinks and live music most weekend
CJ's Bar
This bar inside the iconic Royal Hotel usually has an offering of live music on Fridays or Saturdays
Legends Bar
Karaoke and live music are both on the agenda at this Grove Village venue. Karaoke is normally on Thursday nights with live music often on at the weekend.
To keep abreast with all what's on head to our What's On page and fill in the dates you are looking for and wait to see all the the things that are happening.