Weston-super-Mare is an exciting place to visit all year round and hosts some of the top events in the South West of England.
Browse the calendar at the bottom of this page or use the search facility to find what's on in Weston-super-Mare when you visit. Explore our monthly event listings below for a huge variety of events from food festivals to concerts and from craft fairs to art exhibitions all of which sit alongside our blockbuster events like these....
Weston Carnival
Weston Carnival, held in November, is one of the most eagerly awaited events in the calendar and it never disappoints. In 2023 it will be on Friday, November 10.
Thousands of people from all over the country line the streets to witness this most spectacular of Somerset traditions as one of the biggest illuminated parades in the world lights up the town. It's all part of Somerset's spectacular carnival season as carnival clubs from all over Somerset show off their fabulous creations - many of which have taken 12 months in the making.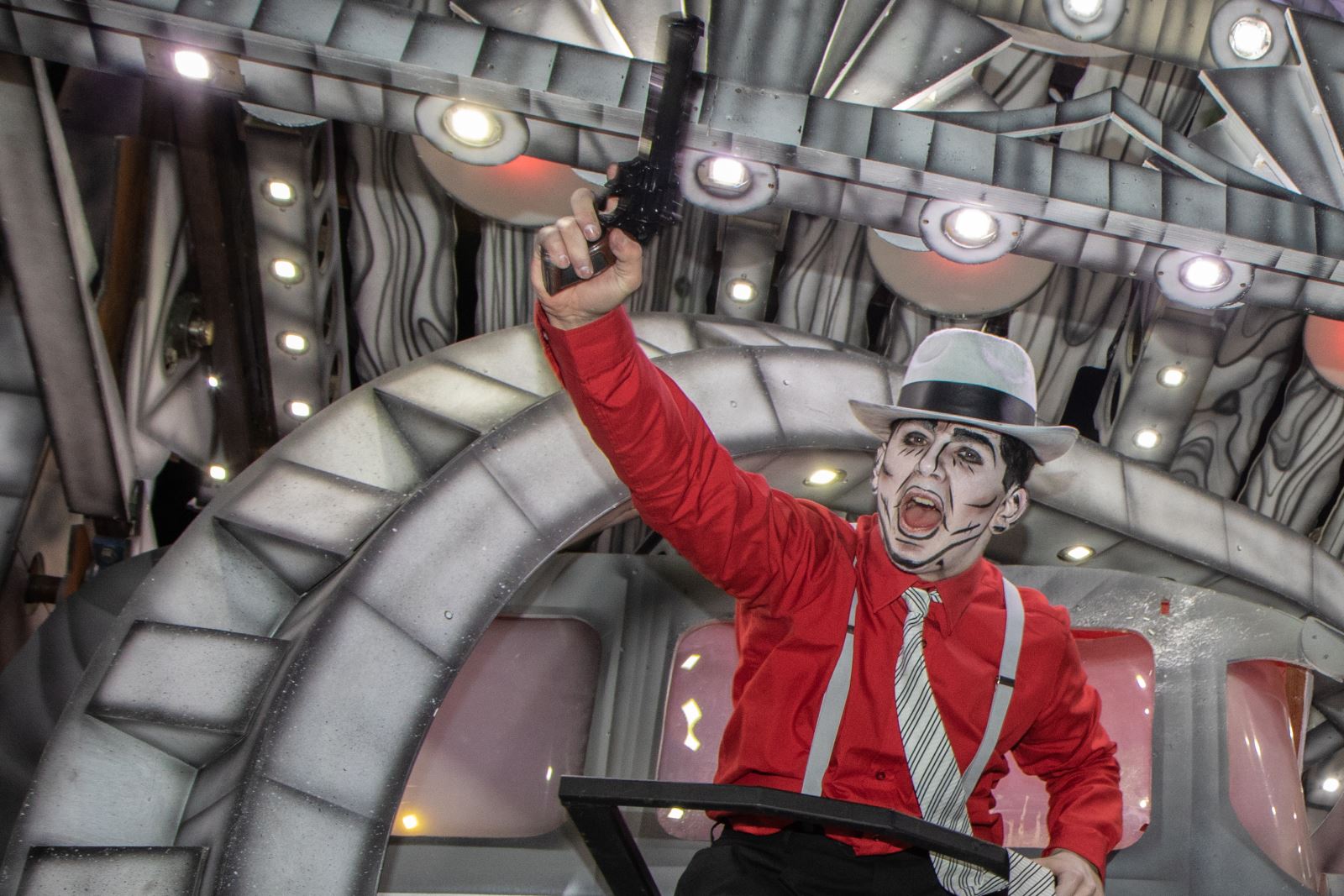 Some of the floats are 100ft long and feature hundreds and hundreds of bright lights and enthusiastic performers. Many of the floats have been built secretly in farm barns away from the eyes of other carnival clubs as they battle for the top prize. If you've never experienced carnival before, you must do it once. And, if you have seen it before, we guarantee that you'll want to see it again and again. If that hasn't sold it to you...did we mention that the whole event is free to watch.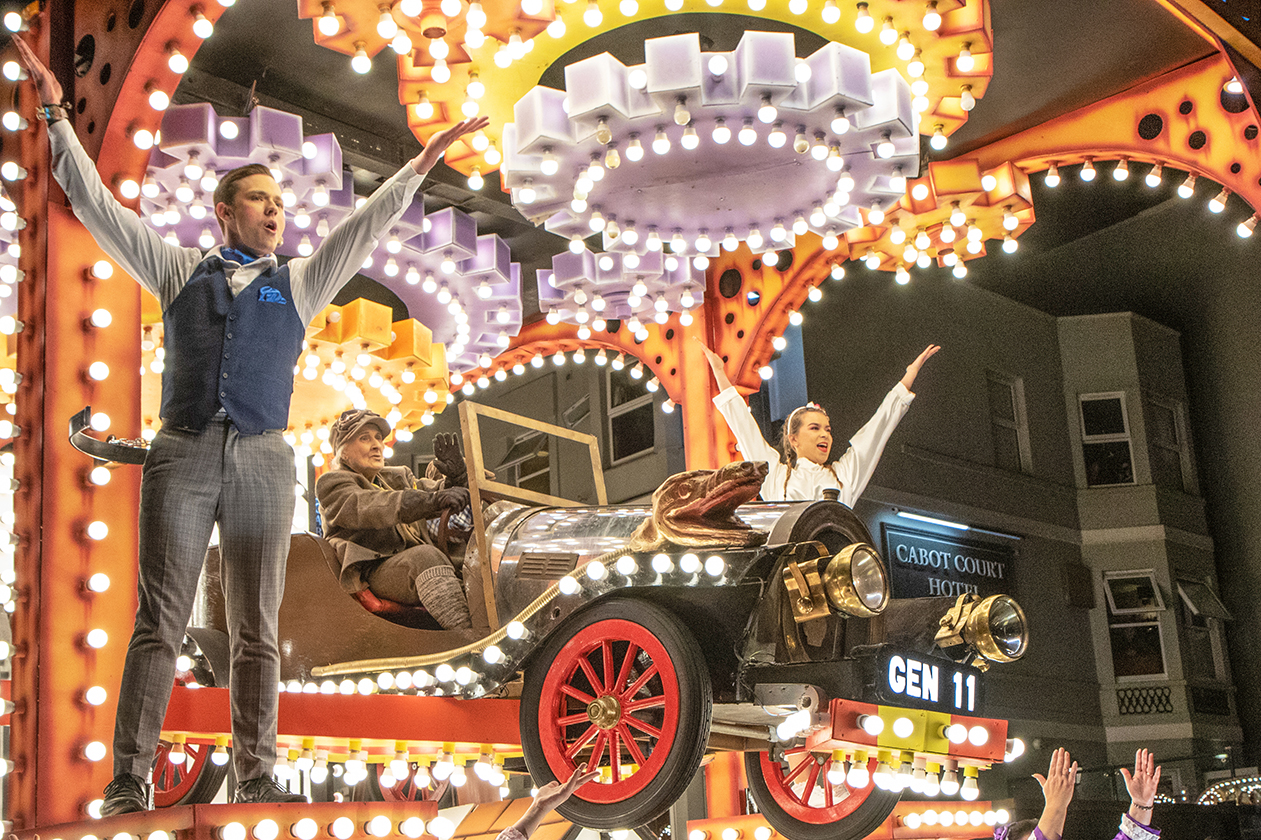 Weston Beach Race
Weston Beach Race is described as the maddest and baddest beach motocross event and it certainly lives up to that heady billing. Usually taking place in October, hundreds of daredevil bikers race around the beach and over a variety of tough and specially crafted sand dunes in a motorbike spectacular where amateur riders go head-to-head with the professionals.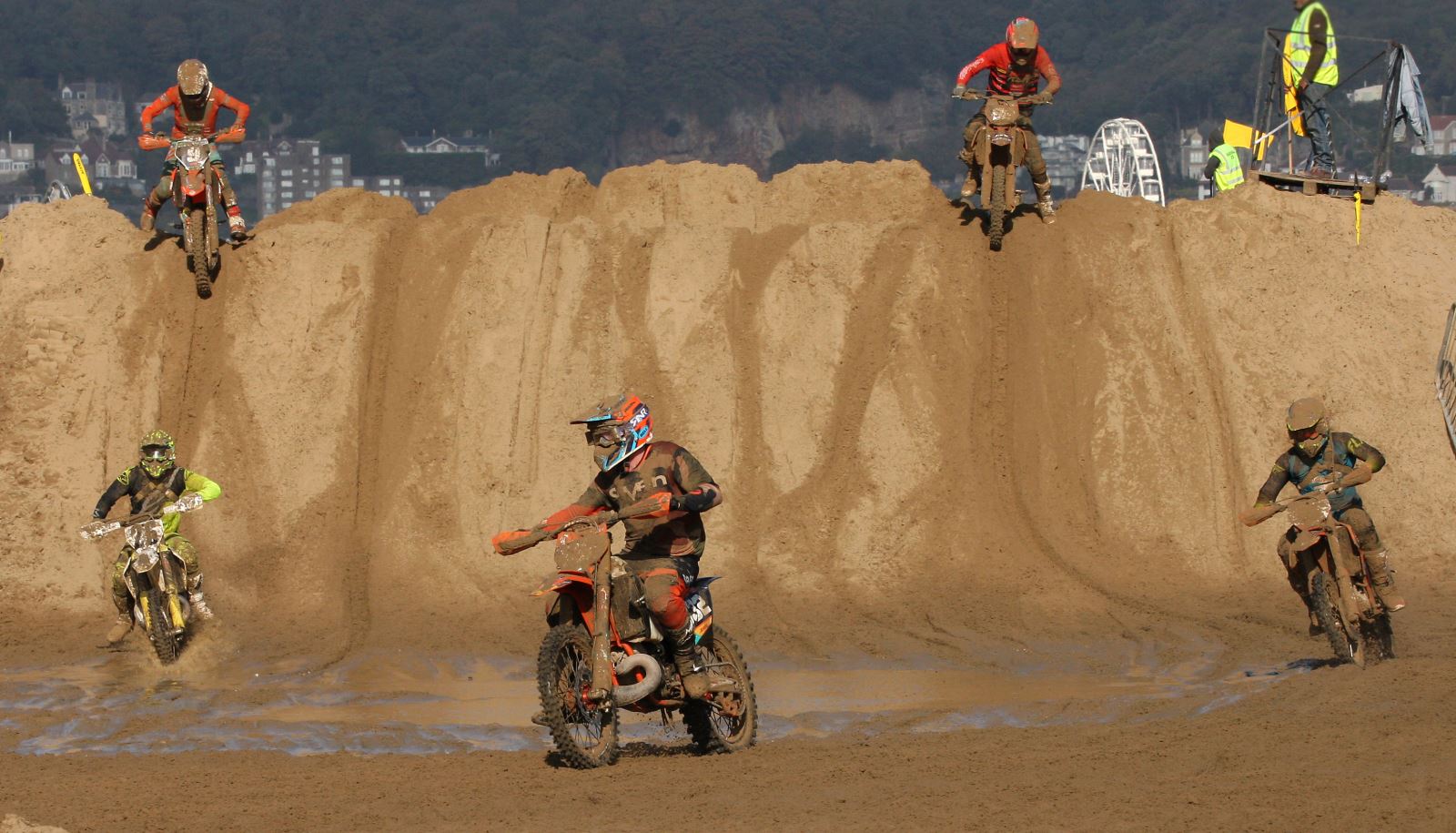 Thrills, falls and drama are guranteed. It's not for the faint-hearted but if you like your action fearless, fast and furious then this an event not to be missed. Because of the tides, this year's 2023 event has been brought forward to September 22-24. For 2023 tickets and prices click here.
Fireworks at Sea
The Grand Pier loves a good fireworks display and wow, they certainly put on a good one. They are often held once or twice a year so keep an eye on our What's On Calendar and search facility to make sure you don't miss out. For an extra special night you can buy tickets to be on the pier itself with food, rides and entertainment or you can join the thousands on the promenade catching the spectacle for free.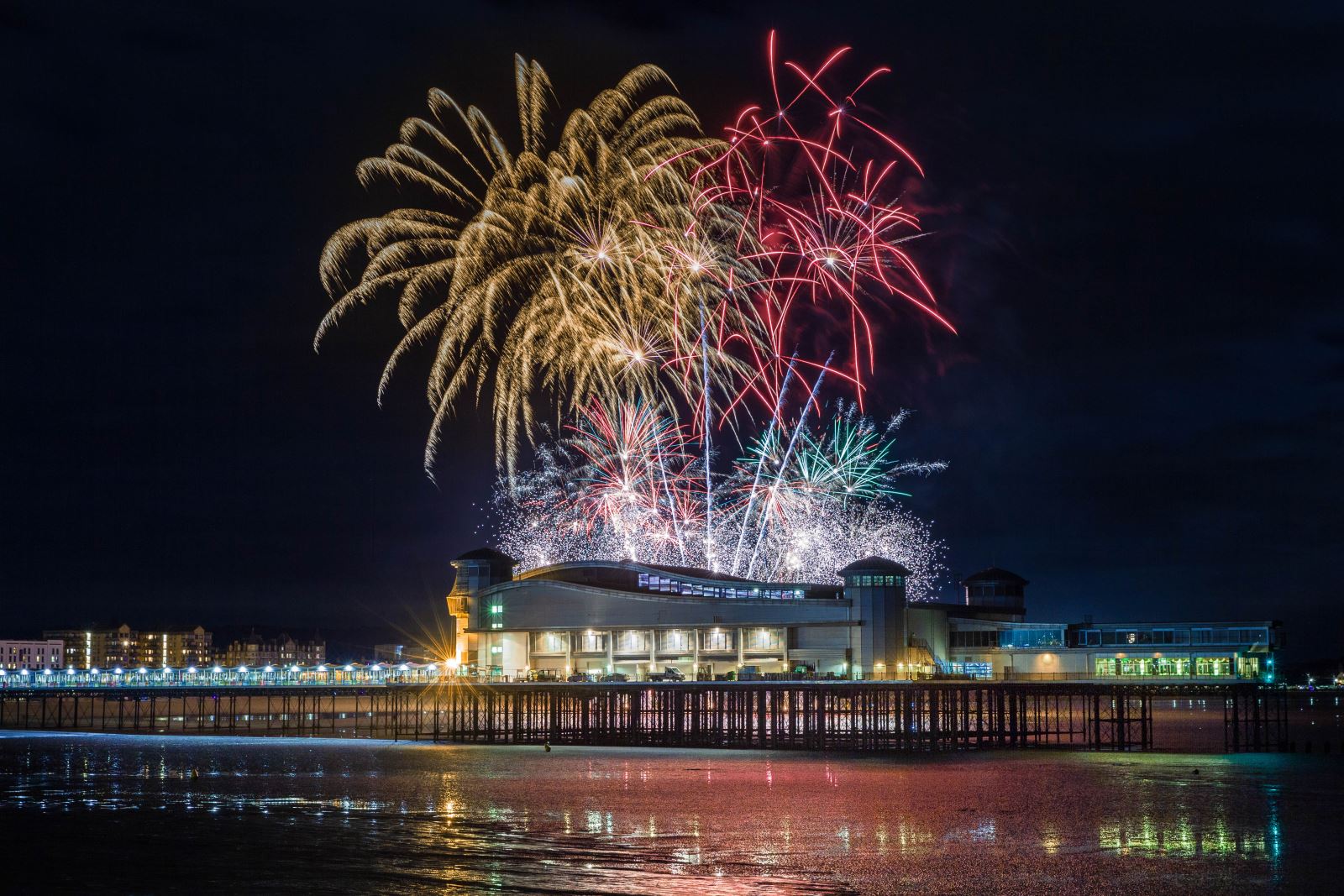 GLOW Festival
The GLOW Festival is fast becoming one of Weston-super-Mare's most looked-forward-to events. Coming in February, it is one of those feel-good pick-me-ups to get the year off to a cracking start after January. During the festival, Grove Park and other areas of the town are transformed into spectacular light shows and creations with talented artists wowing the crowds with their clever and innovative designs.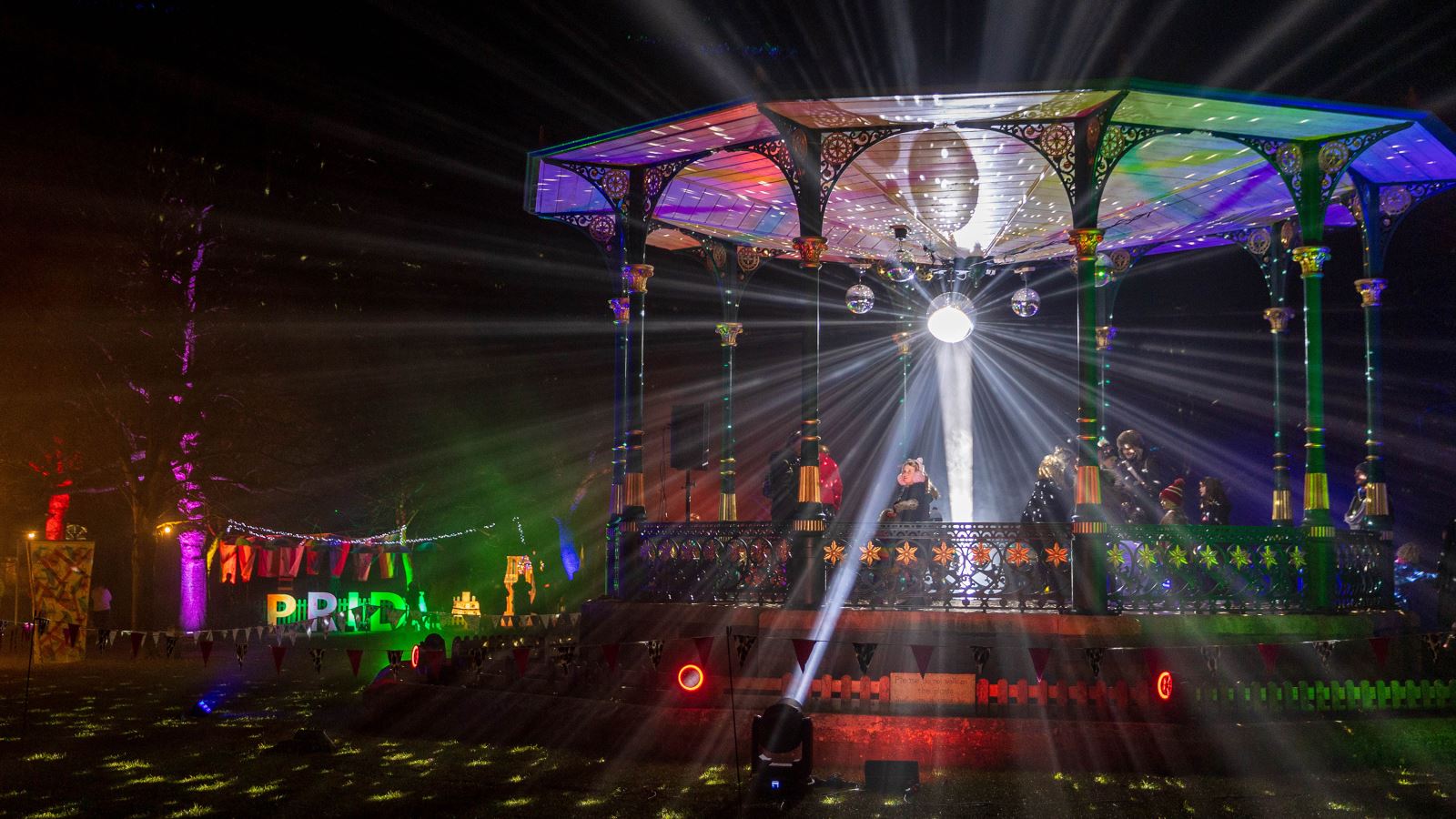 Spectators pay what they like for their tickets but they must be purchased in advance. The festival has become so popular that some of the nights at the 2023 event were completely sold out. Watch this space for details of the 2024 event which we will be publishing as soon as we have them.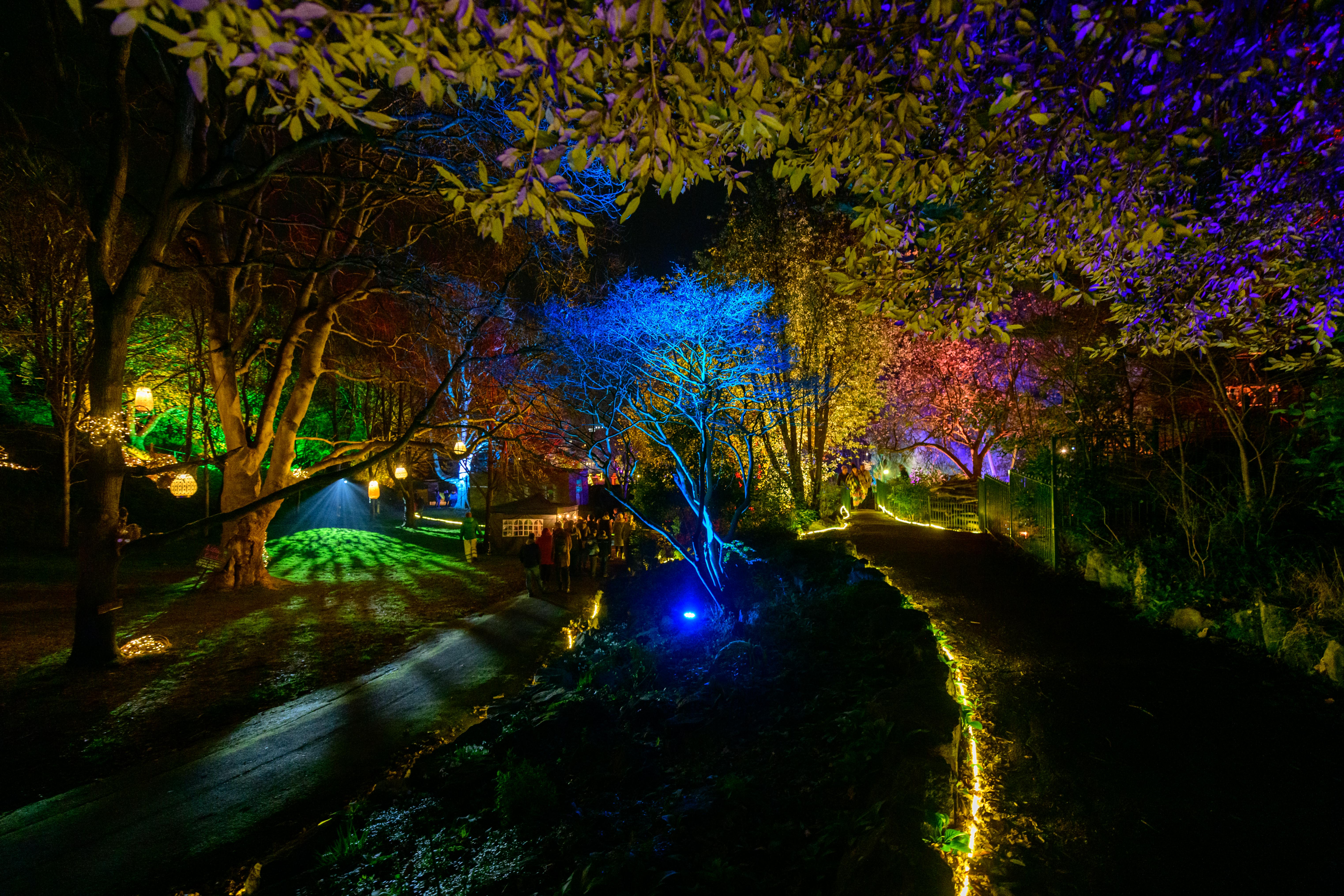 UK Pride 2023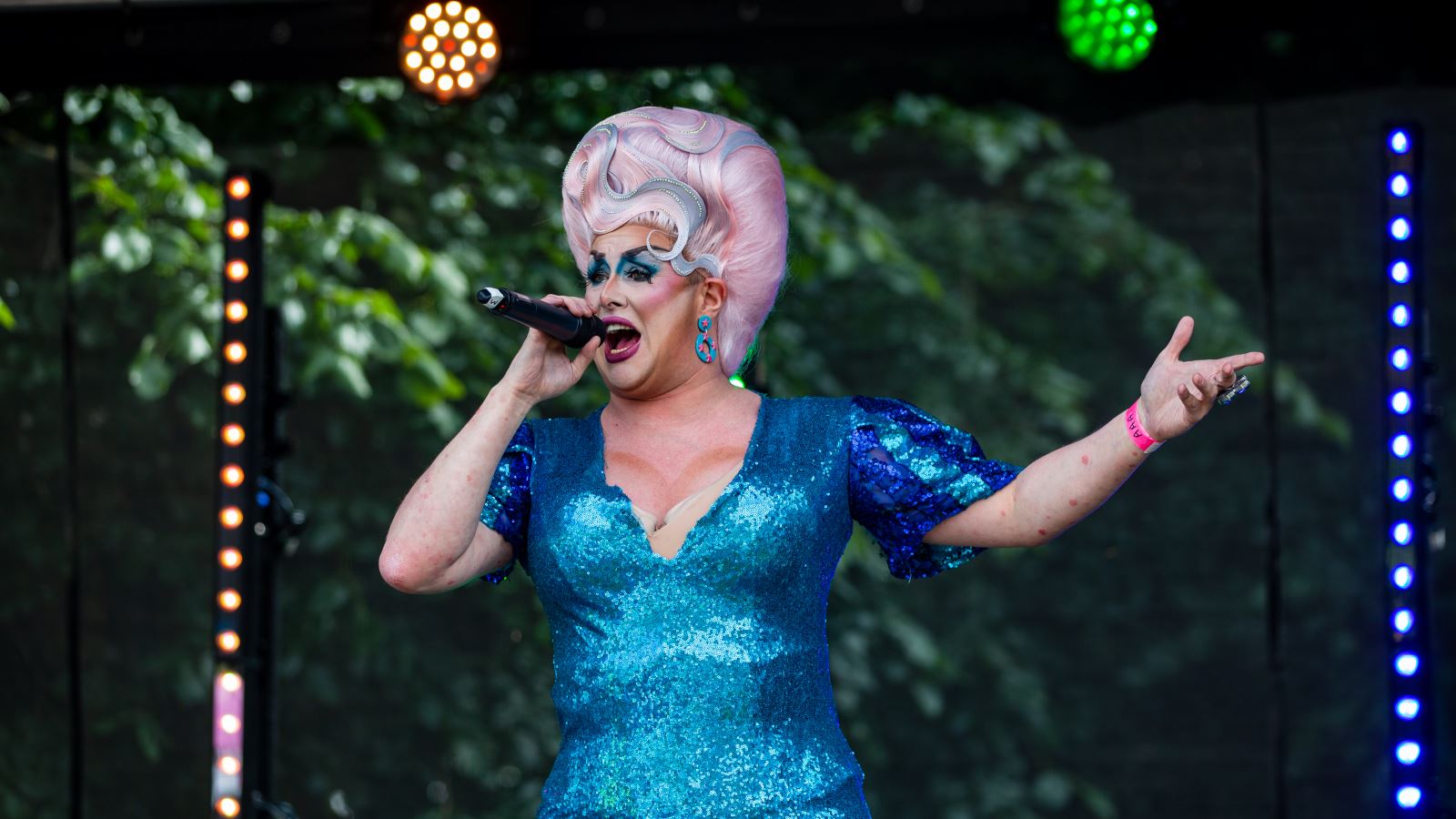 Weston-super-Mare has the honour of hosting the UK Pride Festival in 2023. The one-day event is on September 30. It begins with the Pride Parade which will start at Knightstone Island/Marine Lake at 11am (gathering from 10am) and finish at Grove Park around 12noon where all the entertainment and activities are happening.
More than 18 acts are so far confirmed for the park. They include headliner Rebecca Rudd from Ultrabeat, Killya Darling, Method Dance Co, rapper and performer Chlo Mydia, The Pride Minister, Aida H Dee The Storytime Drag Queen, SMASHBY, make-up artist Wezley Webber from BBCs Glow Up, dancer Tyra Pressure, Singer songwriter Kyle Finn, dancer Kian Taylor-Jackson, singer/songwriter Zoey, with Dr Bev, Fanny Burns and Wyburn and Wayne among the hosts.
Wrist bands will be issued on entry to Grove Park, which has a strict capacity limit. Entertainment will continue until 9pm, with a DJ set from 8pm. After-parties are planned in venues around the town from 9.30/10pm.
For ticketing information click here It is strongly advised to purchase tickets in advance because there is a strict capacity limit at Grove Park.
Harbor Lights Elvis Festival
Weston-super-Mare hosts one of Europe's biggest and most successful Elvis Festivals each year. The annual Harbor Lights Festival attracts people from all over the world for one weekend in February.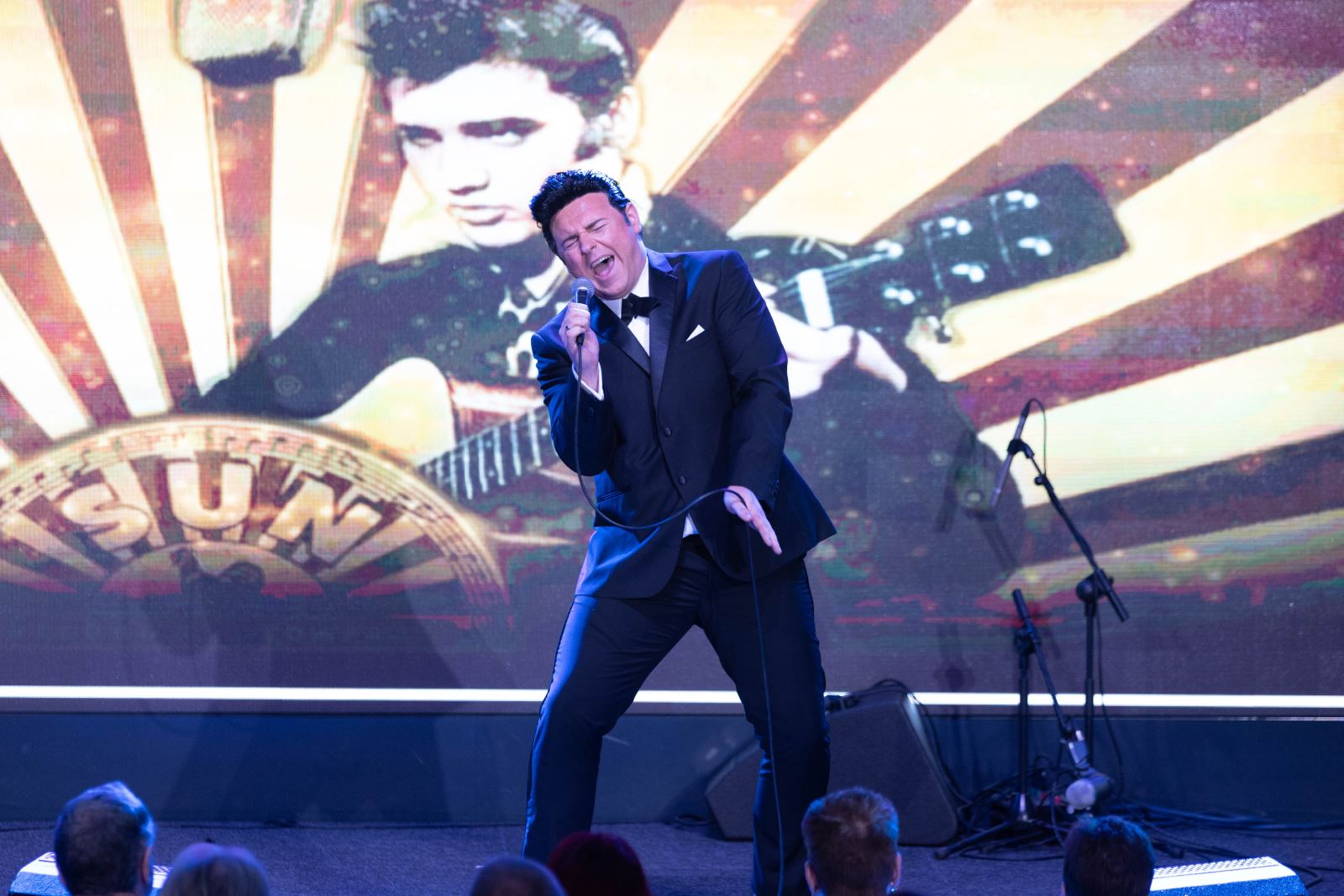 The programme includes sets from some of the top Elvis tribute acts from around the world as well as a competition where performers compete for the chance to win an all-expenses trip to Memphis with $1,000 spending money. The festival has become so popular that almost half the tickets for the 2024 have already been sold.
In addition to the flagship Harbor Lights Elvis Festival, the Weston-based organisers also host a second three-day Elvis show - The Lighthouse Summer Elvis Festival. The 2023 event will be held at the Royal Hotel on July 7, 8 and 9.
Both events are organised by Weston's husband and wife team Paul and Lisa whose festival motto is 'by the fans, for the fans.'
The Circus
Circus week in Weston is another eagerly-anticipated event. It doesn't matter what age you are, it is guaranteed to leave you open-mouthed in amazement.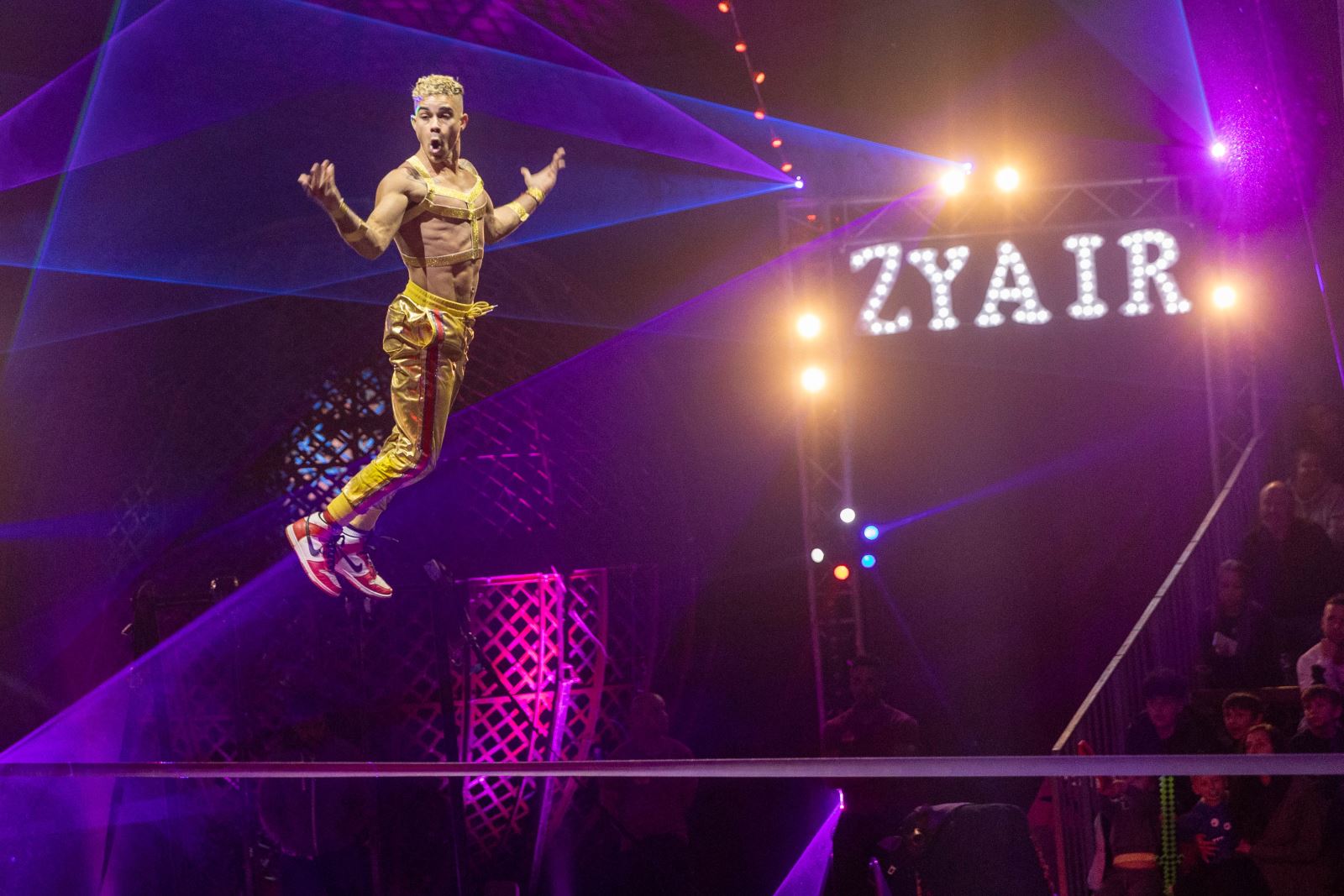 Circus Zyair have been providing the thrills for several years and their daredevil acts, including an astonishing motorbikes-in-a-cage show, high wire acts, as well as all the tradiitonal clowning around make for the most fantastic entertainment whether you have children with you or not. Circus week 2023 is from Thursday, May 11 to Sunday May 14. For more details on times and how to book click on the What's On Box just a little further down this page.
Icescape
The largest outdoor covered ice rink in the country returns to the Tropicana after a three-year break on Tuesday, November 7. The festive attraction will run from Tuesday 7 November 2023 to Sunday 7 January 2024.
There's space for 400 skaters in each 45-minute skate session on the ice, with various sessions running throughout the day. These include the popular Parents and Toddlers, Quiet and Disco sessions.
A number of other activities will run alongside the skating, including rides, as well as festive food and drink stalls.
Dr Who Exhibition
Weston Museum is holding a special Dr Who Exhibition as the the programme celebrates its 60th anniversary.
It is claimed the free exhibition, from October 21 to January 24, 2024, will feature the largest collection of original and digital art from the programme in one location.
Adventures in Time and Space - 60 Years of Doctor Who Art - will feature items from the show's history - from the first Doctor William Hartnell's series to that of latest star Ncuti Gatwa.
The exhibition will feature book covers, VHS video covers, annuals, comics, graphic novels, digital art and even a never-seen-before painting.
Much of the material has come from fans and collectors.
The museum has dived into the TARDIS of artistic archives, rounding up an exceptional collection from private art collectors and dedicated fans who've lovingly held onto these visual treasures. Visitors will be able to marvel at the original cover art of the very first Doctor Who Annual from way back in 1965 – the colours as vivid as a freshly regenerated Time Lord.
This artistic ensemble features legends like Andrew Skilleter, whose art has become as timeless as the Doctor's adventures, and Chris Achilleos, the genius behind the iconic covers of the Target Doctor Who novels. There's also Colin Howard, the artist responsible for those captivating video covers, the legendary Dave Gibbons of Marvel comics fame, pop culture chronicler Jeff Cummins, and storyboard extraordinaire Mike Collins from Bad Wolf Studios. The line-up continues with Jessica Martin, Bill Donohoe, David McAllister, Lee Binding, Lee Sullivan, Sophie Leong, Gwen Burns, Eren Angiolini, and the dynamic duo Anthony Dry & Stuart Crouch.
Promote Your Event
If you have an event coming up in the town you can list it on the what's on in Weston-super-Mare page for free. Simply fill in your details here.