Food Friday - Cream or Jam First
13th July 2023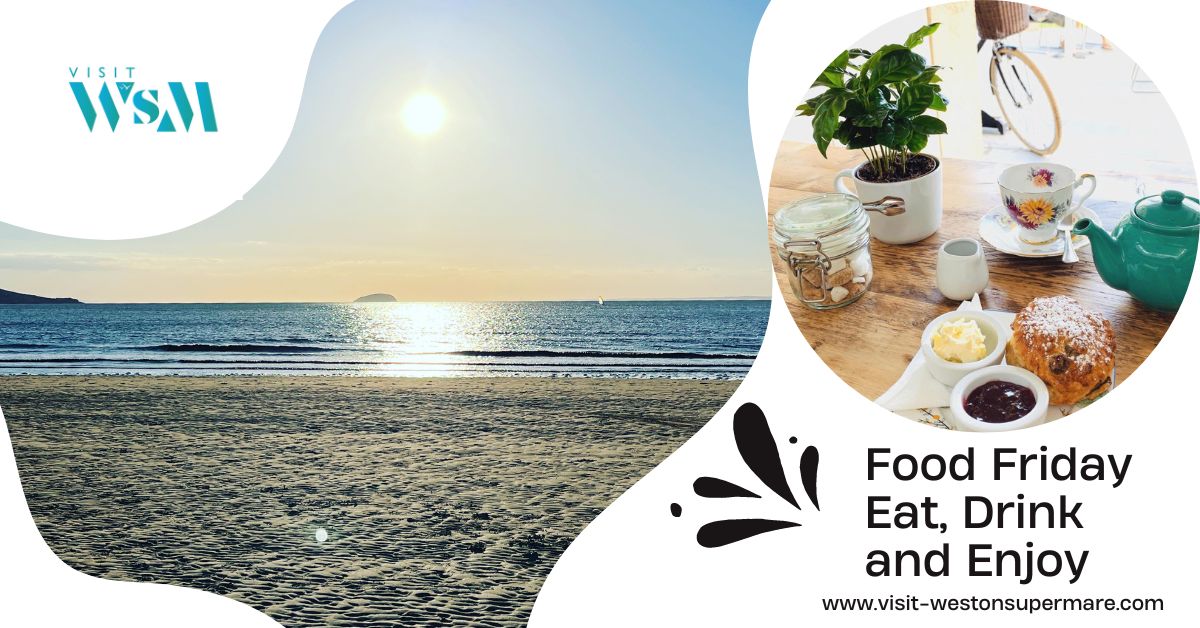 Are you a jam first or cream first person?
When it comes to cream teas everybody has their way and everyone thinks their way is best.
In Devon, it's cream first. In Cornwall it's the other way round.
Whichever way you have it – the traditional cream tea and the traditional English afternoon tea, often consisting of sandwiches before a selection of cakes - has become a British institution and a treat to savour.
So here in Weston we've compiled a list of some of our favourite places to go for Afternoon Tea or cream tea.
Doctor Fox's Tea Room
If you are looking for a tasty cream tea with a sea view to match, Dr Fox's tearoom on Knightstone Island is the place to be!
Fluffy scones, loose-leaf tea and pretty vintage crockery are the order of the day here.
It is a traditional tearoom with a warm welcome and all its cakes, soups and scones are made on the premises.
The tearoom also comes with a bit of history. It is situated in what is left of Dr Fox's treatment rooms that once contained the hot and cold salt water slipper baths back in the day when it was a health spa.
It's worth calling in advance to make sure they've got room because, when the sun is shining, this is such a pretty venue to chill out in and enjoy their menu, that is does become a magnet for other afternoon tea seekers.
For the full Afternoon Tea experience, with sandwiches and cakes on the traditional tea-stand, bookings should be made 48 hours in advance.
Tiffany's on The Grand Pier
If you are looking for an afternoon tea with a view, Tiffany's at the end of the Grand Pier is a must.
A warm welcome awaits even for on-the-spur-of-the-moment arrivals and it's possible to skip lunch and take afternoon tea at lunchtime, around 1.30pm-ish which somehow feels even more decadent.
All tables have a spectacular view of Weston Bay, which makes the whole experience even more satisfying.
The Sparkling Afternoon Tea at £22.95pp is an excellent choice when a treat day is required. It includes a good selection of sandwiches, including vegetarian, along with freshly baked scones, clotted cream & jam and a variety of delicious cakes. The ample portions tasted even better washed down with a glass of Prosecco followed by a frothy cappuccino.
Groups are advised to book if the party is over six people, which could be between 11.30am – 2.30pm although this can be extended on busy weekends.
Tiffany's is well worth a visit - it is prudent to arrive feeling hungry as you will definitely leave feeling satisfied!!
Tiffin Clevedon
Take a trip out to Clevedon and enjoy afternoon tea with a view out across the beach to the town's famous Victorian pier.
Their Afternoon Teas include a selection of hand made cakes and pastries, delicious sandwiches, scones with clotted cream and strawberry jam, all served with a pot of Tea Palace premium tea or a coffee of your choice. You can even mix it up and add in some Prosecco.
The Boathouse
The Boathouse in Uphill do a lovely weekend cream tea. And, if you pop in having walked or cycled the Brean Down Way, which goes right past its front door, you can enjoy it guilt-free - telling yourself that you are merely replacing those calories that you have just burned off.
Those home-made scones, fresh jam and lashings of cream, all washed down with the perfect pot of tea, will definitely help catapault the Brean Down Way into one of your favourite walks or bike rides if it is not already there.
It's also a fabulous place to visit with friends as it is a café with character – being built into the side of the cliff, which the owners have exploited brilliantly to create a real feature inside..
The Blitz Tearoom
This little gem on Waterloo Street scores highly on two counts. It is not only a good place to have an afternoon tea but it is the perfect place to enjoy an experience too. As soon as you enter you feel as though you are stepping back in time to the 1940's with the quirky décor and memorabilia.
Advance booking is advisable as it is quite a small venue and gets very busy.
There's a great menu which provides a unique choice of five options of cream teas. The Vera Lynn seemed an appropriate choice as her song was playing in the background.
When the tea arrived, it did not disappoint. It was served in the cutest bone china cup and teapot along with a tea strainer, which always seems to make the art of tea drinking more civilised.
The sandwiches and scones were served on a pretty cake stand with a good choice of fillings - the scones were obviously homemade and there was plenty of jam and cream to dollop on top, whilst having the debate on which goes on first, the cream or the jam!
Once we had devoured the sandwiches and two scones each, we were offered a piece of homemade cake, I went for the traditional Victoria Sandwich, and must admit I have tried many over the years and this certainly was one of the best.
Vegetarian, vegan and gluten free options are also available.
It is a unique town centre café, ideal for a special occasion or just because you feel like a treat.
Cadbury House
For that really indulgent special celebration, Cadbury House in Congresbury delivers a luxurious setting and a quintessentially English Afternoon Tea.
From the moment you come up the driveway you know you are in for a treat and, if the weather is being kind, you could even take tea al fresco.
Your waiter or waitress will deliver an array of sandwiches, freshly baked sultana scones with clotted cream, a variety of other delicious sweet treats and specially selected TeaPigs tea and Musetti coffee.
And, if you want to add even more fizz to that special occasion, you could, treat yourself to Prosecco Afternoon Tea or a glass of champagne.