Food Friday - Dining Out With The Mayor
11th October 2023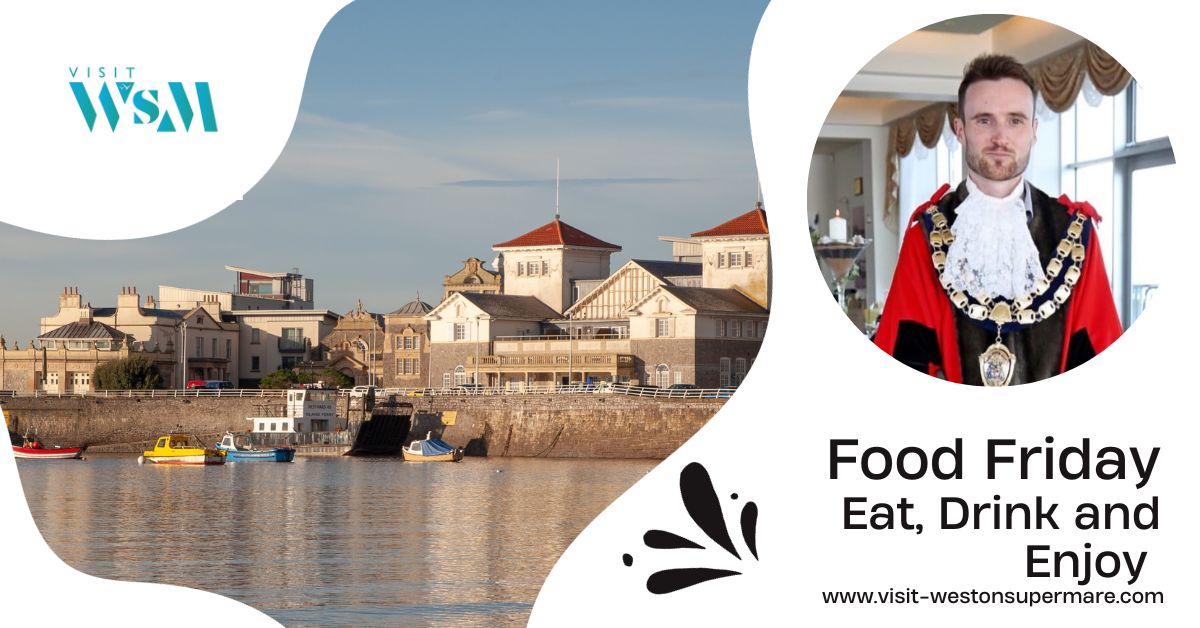 I'm Ciaran the Mayor of Weston-super-Mare. I love our town and I know you all do too! It is a brilliant place and has loads to offer. I'm taking over the food Friday blog today to take you through five of mine and the Mayoress' favourite places to eat. Trying to choose just five was really, really difficult because there are so many great places to go in Weston for a meal. I'd be lying if I said I have compiled this list myself. I haven't. The Mayoress helped me pull this list together because if I was left to my own devices we'd have fish and chips on the seafront every day and this blog would be rather short - and repetitive!
So here goes…

Seaton Restaurant
Seaton Restaurant is on the seafront and serves breakfast through to dinner, with a fabulous variety of food for all appetites. It's always really difficult to choose what to eat at Seaton as every option is great but you can't live or visit Weston-super-Mare without having our fish and chips, and I really love my fish and chips. The fish and chips at Seaton are excellent but be prepared, the portions are very generous - almost the size of the mayoress's head! You can do little wrong by having a meal at the Seaton Restaurant. Yummy.
Brunello Lounge
If you're looking for a place with a quirky interior, with great food, near the sea front and that's dog friendly - then Brunello Lounge is a winner.
Whenever we're looking for brunch we almost always visit Brunello Lounge. Its proximity to the seafront is great and it always caters for everyone's needs. When we've had friends visit from out of the area - sometimes with their dogs - we'll head to Brunello Lounge.
The food is great - I'll regularly get tapas whilst the Mayoress will often get a smashed avocado brunch. They also have some really nice home-made drinks such as sorbet lemonade which is really refreshing.
Clara's cafe
As the Mayor I often find myself running around from engagement to engagement and it's easy to forget to have lunch. When I'm in town and between engagements I regularly head to the oasis of Weston Museum. But what's this got to do with food you may ask?
Well, Weston Museum has a cafe called Clara's Cafe and they serve really tasty sandwiches and paninis alongside a range of drinks including my favourite hot chocolate - which is just what I need at lunch time.
The lunch is excellent value, less than £5 for a sandwich/panini/toastie, and you get to eat your food in a glass-roofed courtyard whilst being able to view the exhibitions. What more could you want?
What I also love about the cafe is its inclusivity - it's fully accessible and disability friendly. It also participates in the local breastfeeding friendly scheme.
It's a place that absolutely caters for everyone.
Dr Fox's Tea Room
The Mayoress likes an afternoon tea and I love scones (although we avoid discussing the topic of whether the jam goes on the top or the bottom - divorce is expensive) so Dr Fox's Tea Room caters for both of us.
You'll find Dr Fox's Tea Room at Knightstone Island overlooking the sea. Their cakes, soups and scones are made on the premises and are really nice.
The staff are incredibly friendly as well and their afternoon tea is great value.
Meze Mazi
When the Mayoress and I first visited Weston-super-Mare the first restaurant we went to was Meze Mazi.
Meze Mazi is at Oxford Street and cooks Meze meals in a Mediterranean style. Meze means 'to eat' and is used to describe the serving of several small dishes - and that's certainly what Meze Mazi delivers.
We've never had so much food and we loved all of it. The food is fresh and delicious, running from salads, a range of fishes and meats and homemade desserts.
We love the simplicity of ticking on the menu what food you are eating and then receiving a variety of beautiful food.
I can assure you that you won't leave Meze Mazi hungry.

These are just five of the businesses we wanted to shout out but there are countless others that we could have chosen - Weston-super-Mare is full of brilliant businesses creating delicious meals!