Food Friday -Paw-fect for Dogs
27th July 2023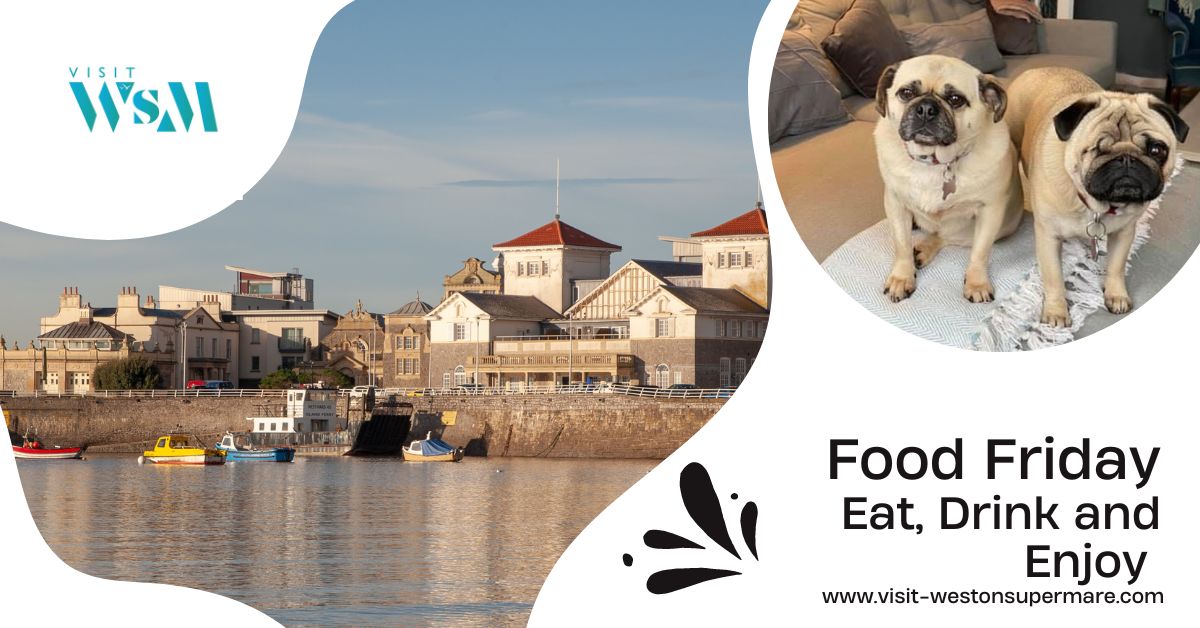 Hello! My name is Jane and I am the Visitor and Information Services Manager here at Visit Weston-super-Mare. Not only do I love Weston, I also love animals, especially dogs. I pretty much grew up with pets and one of my earliest memories is of our St Bernard dog, Ben, escaping from my parents' newsagents on Whitecross Road and charging off towards the seafront with postcards blowing away in the wind after he knocked over the stand.
I now have two beautiful fawn Pugs – Mabel and Peppa – who are utterly crazy but adored. I take them with me wherever I can. That includes coffee dates with friends, lunch with my family or evening drinks with my partner. It really is the case of love me, love my dogs.
The really good news for all our furry friends is that Weston is the paw-fect place for dog owners, with plenty of dog-friendly spots to explore so your dogs can wag their tails with joy. I am going to share with you mine – and the Pugs' – top-five dog-friendly places for drinks and food because no trip out is complete without them.
Weston-super-Mare is home to some seriously good dog-friendly restaurants and cafes that will make their tails wag with excitement. Whether you're craving a delicious brunch, a hearty lunch, or a cosy dinner by a fire, these places have got you and your four-legged pals covered. It's a win-win for you and your pup.
Brunello Lounge
Mabel and Pepper know this place off by heart and will often drag us to the front door. This place is a true haven for dog lovers with plenty of space inside and outside for them. The environment is super-relaxed so you can always feel comfortable with your dog there beside you while you relax and enjoy the good food or a drink. With a spacious outdoor seating area, your furry friend can bask in the sunshine on those warm sunny days and evenings. Plus, their friendly staff always make sure to bring a bowl of water and even some treats for your pup! It's a win-win for everyone!
Clarence Park Café
The lovely hut in the park is perfect for a coffee date with your furry friends along with human ones. The menu is great, the coffee tasty and you can even pick up a doggy-sausage as a special treat. If Mabel and Peppa could talk, this would be their no. 1 firm favourite! Clarence Park has two parks – a more formal park where dogs must stay on their leads and over the road is a big activity park where dogs can run free. It's a doggie paradise!
The Ship, Uphill
If you are looking for a cosy spot to unwind with your dog after a long walk on the beach or along the Brean Down Way, look no further. This lovely pub offers a relaxed atmosphere and has a beautiful open fire in the cooler months for you to snuggle up together and enjoy some quality time while savouring their excellent food options.
Revo
If you want somewhere that is a stone's throw from the beach, then Revo is the answer! Whether you're looking for coffee and cake (and there is a LOT of cake!), a tasty brunch or a cocktail to watch the sunset there is always plenty of room for you and your pupster. There is regular live music and dogs are greeted with a big smile, a bowl of water and treats. We especially like the 'wall of fame' as you come into the entrance – tonnes of photos of dogs that have visited – so cute!
Fork 'n Ale
And finally – our favourite spot for Sunday lunch is Fork 'n Ale at the top of Oxford Street. Always a great selection of beers and ales, a fab choice of Sunday lunch options and we highly recommend the cauliflower cheese! Dogs love a snooze whilst their owners enjoy excellent food, music and great customer service.
So, next time you're planning a meal out in Weston-super-Mare, don't forget to bring your furry sidekick along! These dog-friendly restaurants and cafes will make sure you both have an unforgettable experience.
Whether you're a resident or just visiting, you will find that Weston is a dog-friendly paradise that will make your pet's tail wag with excitement! Don't forget to share your favourite dog-friendly spots and adventures on our social media pages. Let's celebrate our furry friends and make Weston the most dog-friendly place around. Happy dining, everyone.
#DogFriendlyWeston #PawsomeAdventures #DogLoversUnite