Dog Friends, Watch Ocho Grow
30th March 2023
Visit Weston are thrilled to have made a new friend who loves Weston just as much as we do and has recently sent us this "dlog" to tell us about his favourite things to do. We hope you enjoy watching Ocho Grow!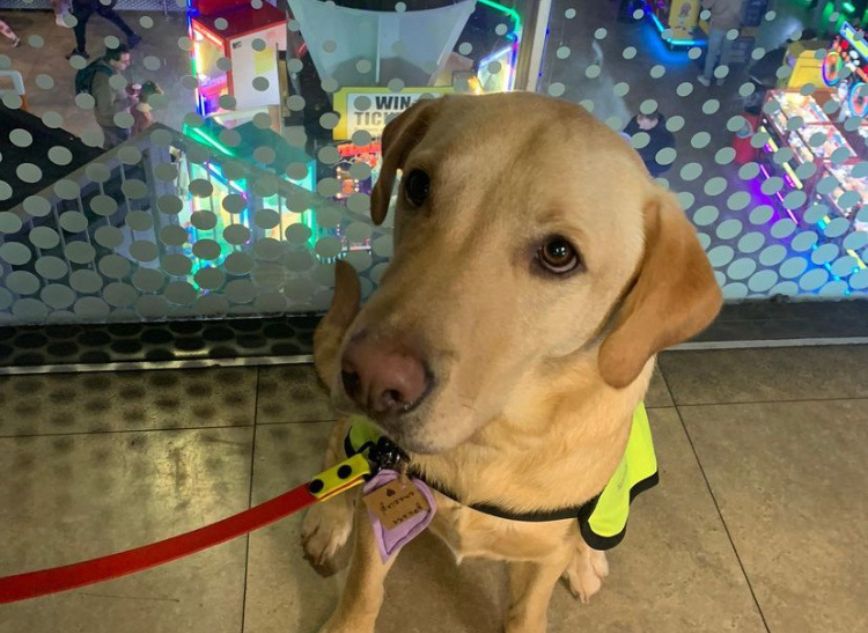 Hey there furiends. I hear you're interested in a day out in Weston. Maybe you'd like to follow me today and see what I get up to? I'm Ocho, I'm 2 years old and I live in Weston. Woof!
There is loads of cool stuff to do whether you're on 2 legs or 4.
If you're anything like me you like to start the day early. So, this morning we're off down to the beach for a morning stroll and watch the sun come up. You won't be alone. Us dogs love the beach first thing in the morning. Remember to read the signs cos there are some places we can't go like the marine lake. I thoroughly recommend a trip to the pet friendly cafe on Knightstone Island. Stones cafe is always welcoming and do a great breakfast and even serve dog icecream!
So what next… how about a quick round of crazy golf? We have 2 different outdoor courses on the sea front. And 2 indoor courses. My favourite is the one with the windmill.
If you don't already know me, I'm an assistance dog (in training). This means I'm highly trained to help my handler cos she has a disability and uses a wheelchair. We have some jobs to do today. First stop is card factory. This is inside the Sovereign so only working assistance dogs can come in here. The signage is fairly small and lots of people either ignore or just don't notice them, but please help keep assistance dogs like me safe and have someone wait outside with your pets. It's confusing I know. Some stores (like Wilko and Waterstones) do have pet friendly stores. But these ones only have access via a non-pet-friendly shopping centre so it doesn't apply here. Next stop is Tui to see how our holiday plans are progressing. Great news… I'm now flight ready and ship shape. Looks like it's going ahead. Can't wait to travel. Finally let's pop in to New Look and see if there's anything eye catching. Excuse me a second while I do some tasking to help my handler try on some clothes.
Oh no, now it's raining! That's okay. Let's have a break while we wait for the sun to come back. Coffee#1 is a great pet friendly coffee shop and sometimes they even have dog treats on the counter.
Okay, so I think we should play some arcade games as it doesn't look like the rain is stopping. The Olympia Arcade is dog friendly, I think. So that will keep you out of the rain. But we're going to head down the pier instead. The Grand Pier is brilliant but again only working assistance dogs are permitted. My favourite job on the pier is picking up dropped coins. But I've recently been taught how to pull the tickets out of the slots, and now sometimes I try my luck stealing other people's tickets if they're on the machine next to us! Haha. Oh gosh we won the jackpot. So many tickets.
Our final activity for today is a visit to the museum. It's only small but very welcoming with lots to look at.
Right then, over to the Playhouse to pick up the tickets for next week, and then down to Grove Park for some more "me time" cos I've been such a good boy! I like to listen to the live music in the band stand but unfortunately no one was playing today. I did sing but it didn't get the attention the brass band does. Some people just don't understand doggy talent. We did see a lovely lady playing a violin on a bench though. She was very good and very happy.
Let's think about what we'll do with the evening. I'd like to go to Revo Kitchen as they're dog friendly and give me loads of treats, but the queue is out the door. Maybe we should have booked. Nick's bar is good too but I don't think it's quite the weather for sitting outside yet. It's okay though cos it's Mother's Day and they have something special planned. We're off to Congresbury Arms for a roast dinner. Normally, I get to swim in the river and roll in the mud after they eat, but I think it will be too dark later. And apparently the bar doesn't welcome mucky river pups, only well-behaved clean pooches. Sometimes they have dog treats if you give them the puppy eyes, and there is always someone to give belly rubs!
I hope you've enjoyed spending the day with me. And maybe I've given you some ideas of things to do in and around Weston? Let me know in the comments what you like to do most, and follow me on instagram @watchochogrow