Food Friday - Joe's five Gems
22nd June 2023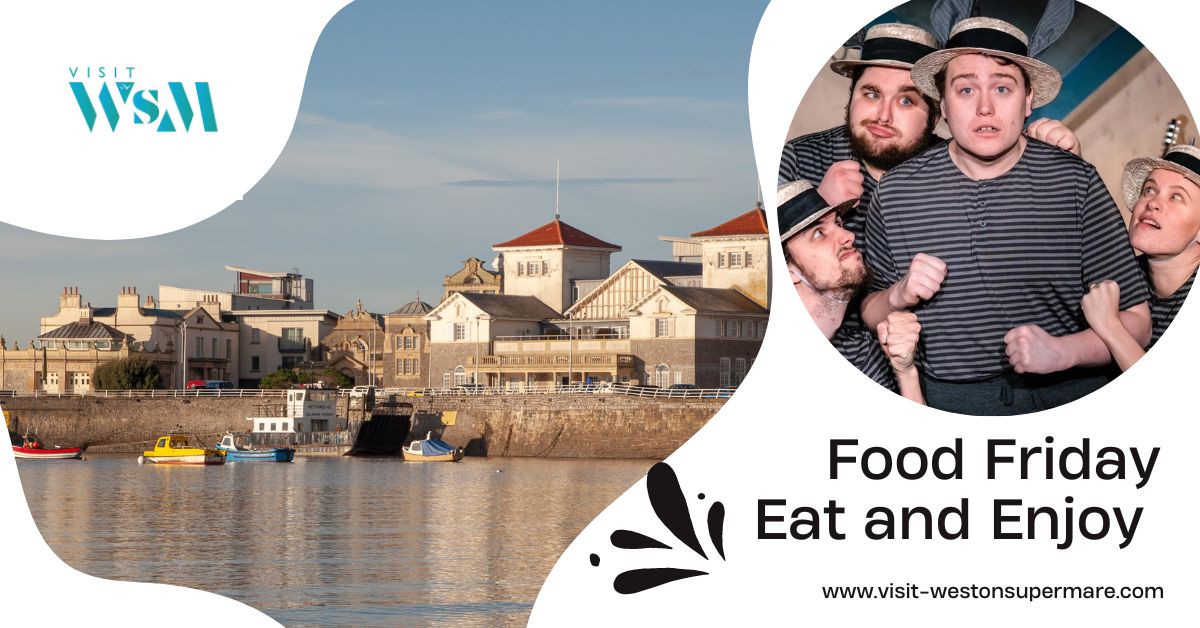 Ahoy, there I'm Joe Brooks. An actor, theatre maker and stand-up comedian. I'm Weston through and through. Born here, schooled here, went through college and even university here. I still live here. I've never found the train station out, I jest. I just bloody love it here!
There's so much going on, despite what some people think. This town is bursting with life! There's so much to do and with so much to do you need to take a break sometimes and have a drink and grab some grub.
Here are my five picks of where to go for such delights in Weston

The Stable Games Room
The best pizza in town! There I said it... well wrote it, but I would say it if you asked me. The Games Room is such lovely place to eat, drink or have some fun!
As I said the pizza is top-tier and the drinks are wonderful with a regular selection of new beers, spirits or IPAs on offer.
The space itself is so welcoming and bright with is games-themed decoration but it still has features of its past life as The Market House.
Above the backbar are classic posters from productions at The Playhouse Theatre. In the ceiling, there is some glorious original stained glass and on hot days the door is open to the courtyard.
And of course, there are the games! Shelves full of games to play with your friends. If you're unsure you can ask one of the lovely bar staff and they well always give you a worthwhile recommendation. The Games Room also host a variety of events, quiz nights, games nights, classes, music nights and open mic. I love it there.
It also has special place in my heart as it is where From the Mud - a collection of local theatre makers - perform regular cabaret shows. Such great nights and more to come. As a shameless plug, I run an open mic stand-up there every 2nd and 4th Sunday of the month called 'Pints, Pizza's & Punchlines'. The pizza is that good we had to mention it in the name.
The Cove Café
Tucked away from all the hustle and bustle of the town centre is The Cove Café overlooking Anchor Head. I often walk from my home in Worle through Worlebury Woods, down to Birnbeck Pier and head into town. The Cove Café is my pit stop. It is great to sit and get a cuppa and some delicious cake, peer over to the rocks and watch the sea come in or go out. It boasts a spectacular view of Brean Down and is the perfect place to enjoy and refresh. It's serene. Perfect. Take your friends, a book or even a canvas, it's that beautiful.

The Ginger Pig Kitchen
Based in Grove Village, the food is gourmet and bloomin' lovely! It's a touch of class with the most tender of food. The space is quirky, fun and the drinks are very tasty. Perfect for a special occasion, I spent my New Year's there with a delicious three-course meal which was off the scale!

Loves/Sprout
I've been a bit cheeky here but I've put these two together as they are owned by the brilliant Anna. Loves Café sits in the heart of Grove Village and Sprout is in the glorious green space of Grove Park.
Both offer the most scrumptious vegan food bursting with flavour.
For more than 10 years Loves was also the home of more alternative entertainment, nights of music, poetry & comedy. It's a wonderful venue but also a wonderful place to sit, think and meet friends! A favourite memory is sitting with friends in December, it was bitterly cold outside as we were having warm apple juice and tucking into a Cauliflower Curry.
Treats Café
Good old fashion grub! Many a hangover has been cured with a breakfast from Treats! The best fry-up in town, in my book. Down the marvellous and hidden Meadow Street, you're at the centre of the town ready to start your day once you've finished your packed plate feast. Always top quality and speedy food.

So that's my top 5 but there are so many that I could have put on here, some honourable mentions must go to the Duke of Oxford, Brunello Lounge, Can't Dance Coffee, The Black Cat, Stones Café and Nicks Bar.
Go and explore. There are so many great places in Weston to go and explore.