Food Friday - Let's do Coffee
6th July 2023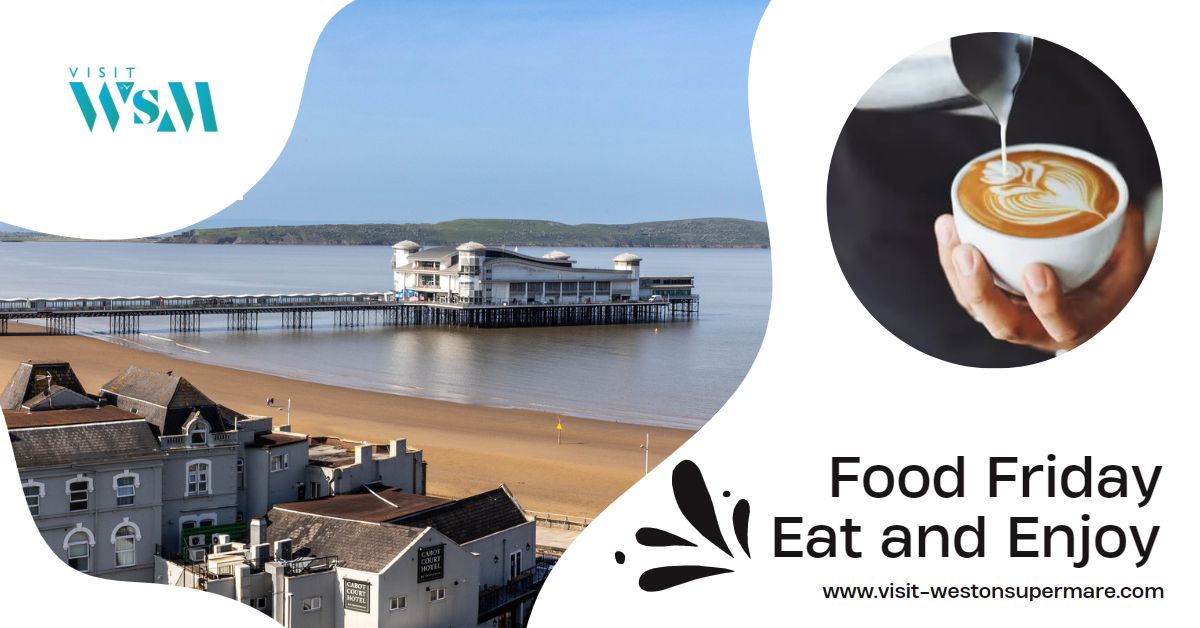 Coffee shops are booming right now. They have become part of British culture. Where once upon-a-time, coffee was a drink to be had while doing something else at home, it is now an event that we go out for.
Coffee shops have replaced the pub as the meeting and socialising place for many people but they can also be the place to fire up the laptop, hold a meeting and get down to doing some work.
So, here goes…Let's do coffee, with our Visit Weston guide.
The Blitz Tea Room
The Blitz is so much more than a tea room. It is an experience. It is all about stepping back in time to the 1940s and enjoying fine teas or coffees in an almost museum like environment. Sit back and enjoy a trip down memory lane with music from a bygone era while surrounded by wartime memorabilia.
Friendly staff add to the unique experience of this Waterloo Street gem and there is an extensive home-cooked menu of delicious breakfasts and lunches as well as speciality Afternoon Teas with yummy homemade cakes and scones, all cooked freshly on the premises and served by friendly staff.
There's also a variety of milks and gluten free options.
Café Nero
It is situated in the main High Street opposite Boots so an ideal spot for people watching, either outside or on one of their comfy sofas in the window.
There is a large table and chairs at the back of the shop which is perfect for larger groups of friends to get together or for a business meeting.
The staff are very friendly and soon get to know you and remember what you like to drink.
There is a good selection of coffees and cold drinks, a mocha frappe is a favourite in the summer months along with a pistachio iced latte, made from a range of milks.
If you are feeling peckish there are muffins, tea cakes & sponges to tempt you, along with savoury toasties and bacon and sausage rolls.
If you have a four-legged friend they are more than welcome to enjoy the experience with you and you can often find a jar of doggie treats on the side.
Jenny's Coffee House
It's definitely worth going out for coffee here – it tastes delicious particularly the skinny latte and walnut cake!
Once you've walked in through the door of this High Street venue you won't be able to walk out without ordering because the cakes look just so tempting. The toasted sandwiches and paninis are also very good. There's also several different milk options and gluten free cakes.
There's lots of seating, including some lovely comfy sofas that once you've sunk into you won't want to get out of again.
The atmosphere is relaxed, the staff are attentive and there is plenty of choice. It is a something-for-everyone place where you can pitch up with a laptop, a good book or a bunch of friends.
Costa Coffee Drive-Thru, Marchfields Way, Weston-super-Mare
The Costa Coffee Drive-Thru at Marchfields Way may be a surprise inclusion in some people's books. But why not? You get great tasting coffee and can take it away and enjoy it in front of whatever view you like - and we've got some great views here in Weston.
The iced frappuccinos are so hard to resist and their caramel frappuccinos are a particular favourite.
The service is quick and the reason we love a drive-thru is because you can then park up on the seafront and enjoy your coffee with an amazing view.
The frappuccinos are great and taste even better with that delicious little trio of cakes that you can also pick up at the drive-thru.
Revo Bar
Great coffee, tempting cakes and a view that is hard to resist. It is perfect for relaxing. Situated on Weston's third pier it is a fabulous place to meet friends or take visitors who will be wowed by the view. If you've brought the kids, you can even send them off to play indoor neon crazy golf while you sit back and unwind while looking out at the magnificent 360 degree view.
They have their own in-house bakery at Revo Kitchen and the delicious smell when walking through the doors in the morning makes the selection of freshly baked pastries, cakes, tarts, savoury rolls, and scones even harder to resist.
The Greenhouse
This is another real favourite. It is perfect being centrally located yet it still feels slightly tucked away so it is ideal for a business or social meeting.
It's got lots of decaf and gluten free options to enjoy and comes with a view of the Italian Gardens.
The staff are really friendly, the ingredients are locally and ethically sourced and dogs are welcome too.
Can't Dance Coffee
This is a great place tucked away in the Sovereign Centre. It's a place where you can work at one of the tables, or slump into one of the comfy sofas, relax and unwind.
The cappuccinos are great and dietary requirements are catered for with a range of milks and there's vegan options on the menu.