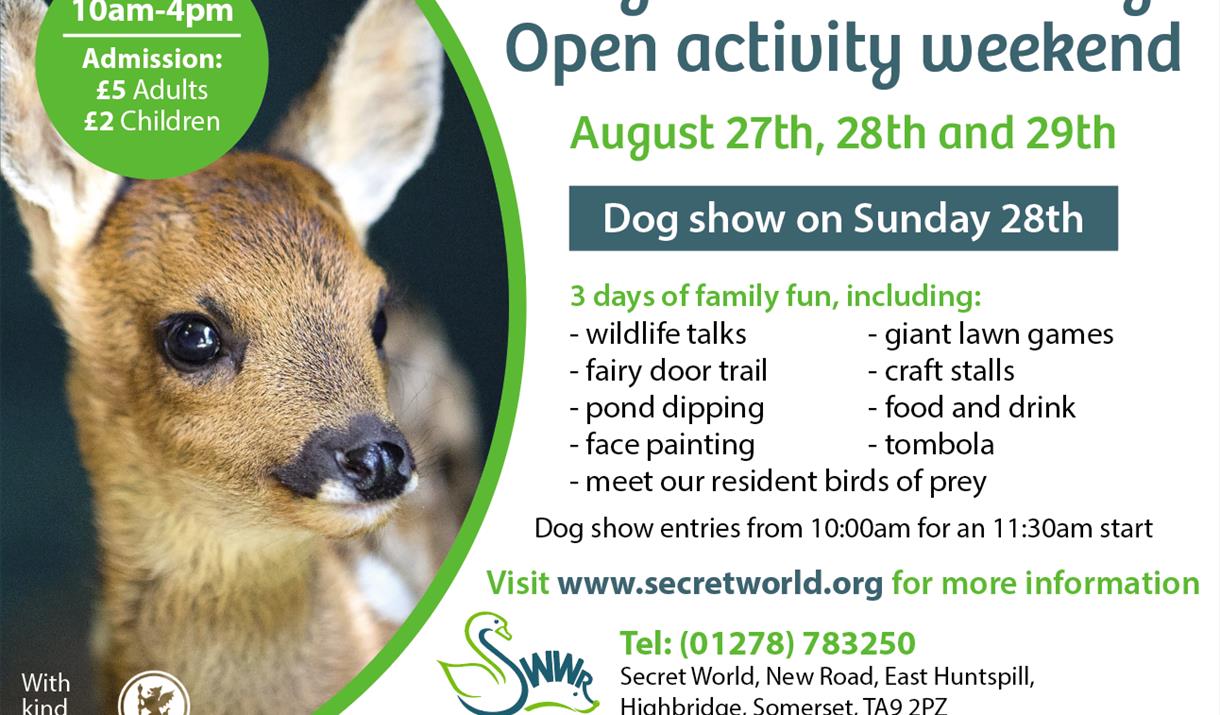 About Us
Saturday 27th to Monday 29th August, 10am till 4pm each day. Entry £5 adults, £2 children per day, tickets are only valid on day of purchase.
We hope you can join us for our August open weekend, which takes place across 3 days on the August bank holiday weekend. It was so nice to see everyone at our Easter open weekend and we do hope you can come and see us this August. We have lots of activities for all the family, including:
Food and drink
Wildlife talks
Fairy door trail every day
Pond dipping
Seed bombs
Mask and badge making
Craft/gift market featuring local artists
Meet our resident birds of prey
Daphne Neville, the actor famous for her conservation work, will be attending with Rudi, an Asian short-clawed otter. Rudi was adopted from a wildlife park after being rejected by his mother and he now helps Daphne teach people about the threats posed by river pollution.
Times and presenters for our talks are still to be confirmed. We'll let you know when we have more details of these.
Our fun Dog Show returns for Saturday and is not to be missed. Entries from 10am for an 11:30am start. £2 per category, all entrants must have tickets for the open day. Categories are: – Prettiest Bitch – Handsomest Dog – Golden Oldie – Best Pupper – Most Appealing Eyes – Best Rescue – Best Crossbreed – Waggiest Tail – Most Smiley Face – Best Trick – Dog the judge would most like to take home (chosen from all entrants).
Online registration for the dog show will be available soon. For the dogs' welfare, we will be keeping an eye on the weather and may have to cancel the dog show if it is too hot. We'll do our best to give a week's notice for this.
Please note that facepainting and our cake/drinks stall will be cash only. We will have card machines for admission and gift shop, but these are dependent on a reliable mobile signal. We are unable to provide cashback so we recommend bringing cash – the nearest free cashpoints are One Stop and Asda, both in Highbridge.
Unfortunately, as we are in Somerset, we can't guarantee it won't be raining! We'll be hoping for good weather, but some activities may be limited to what we can do under cover if the heavens open.
This will be a great chance to see our new wildlife treatment centre and enjoy the interactive learning displays in the reception area. This event is suitable for all ages, and all are welcome! Please note that some areas and footpaths are loose ground/gravel and are not wheelchair accessible. Well-behaved dogs are also welcome and must be kept on leads at all times.
If you have any items you'd like to donate for our animals, we will have a donation table by the event entrance. Things we're in need of at the moment are tinned dog food in jelly, dry dog food/biscuits, and sachets and tins of beef/chicken cat food in jelly. We're OK for newspapers, blankets and towels thank you.
Our site is closed to the public except for open weekends, so this is a fantastic opportunity to visit and learn more about how we are helping wildlife. Please note that none of our wildlife admissions will be on display; our work with wild animals is done behind closed doors and limiting human interaction gives them the best possible chance of returning to the wild.
Map & Directions