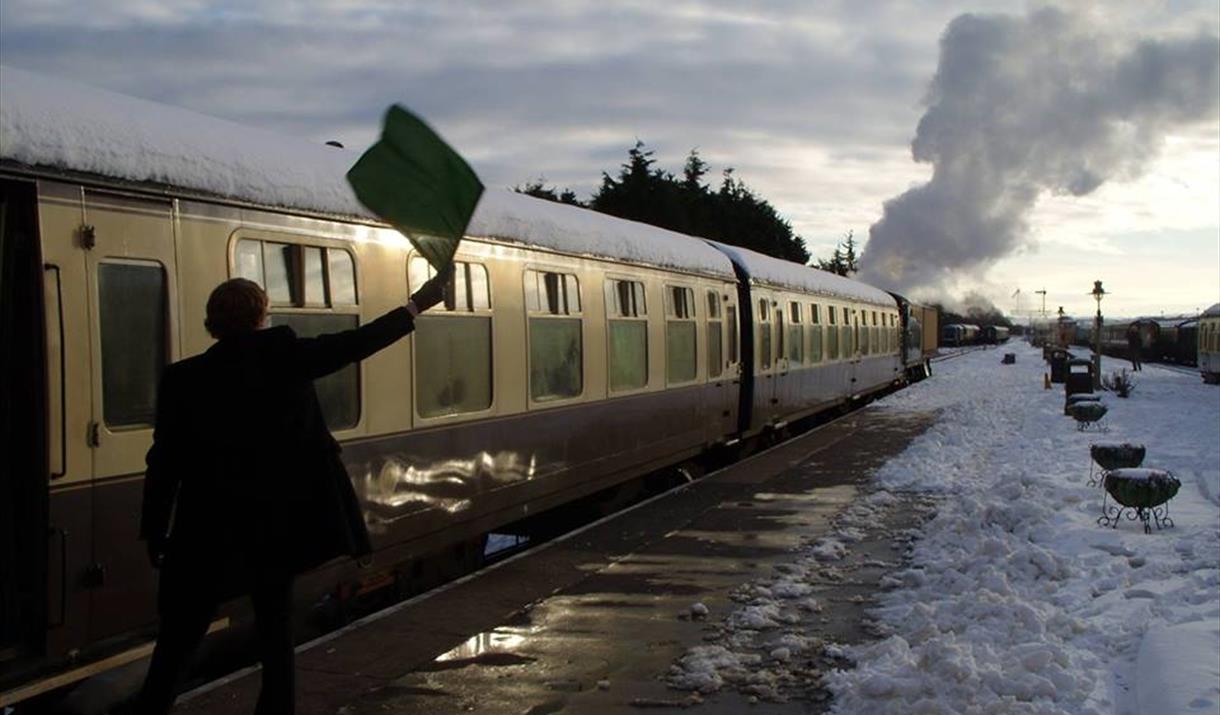 About Us
The Winter Steam Festival is a great way to get out and about in the week between Christmas and the New Year. There are seven trains in each direction and four (or possibly more) steam engines in action.
Travel in a steam heated railway carriage built in the 1950's or early 1960's and enjoy 20 miles of Somerset countryside in winter passing by the windows at a maximum speed of 25 miles per hour. If you need a hot drink – or something stronger - hot and cold snacks or even sweets! The trains have a licensed buffet and there are cafes at Bishops Lydeard and Minehead stations. If the weather is kind, why not take a coastal walk or a hike in the Quantock Hills to "blow away the cobwebs"?

Walking ideas can be found in our "Book of Walks from WSR Stations" which can be bought from our online shop along with other gift ideas. The Railway Museum at Bishops Lydeard station will be open and the Diesel and Electric Preservation Group will welcome guests to their Depot and Heritage Centre at Williton. Normal fares and discounts apply and discounted rover tickets can be purchased now.

For the very first time, Quantock Belle is to operate a gala-style 'walk on' breakfast and luncheon service during both days of the forthcoming Winter Steam Festival. 31 seats will be available on each service on a 'first come, first served' basis.

We will offer Full English Breakfast on the 9.35am departure from Bishops Lydeard and the 11.30am from Minehead each day.

A choice of hot luncheon will be available on the 1.30pm from Bishops Lydeard and the 3.30pm from Minehead.

We are delighted to now be involved in this 'feel good' event and hope we will prove successful enough for QB to become a regular component of Winter Steam Festival. Rest assured, neither turkey nor mince pies will appear on the menu! We will though upgrade our breakfast offer by using sausages hand made by Thorne's Butchers of Wiveliscombe, the QBs regular meat supplier for many years.
Ticket Price
Adult One Day Rover WSF £18.00
Family Day Rover WSF £44.10
Senior Citizen Day Rover WSF £16.20
Young Person Day Rover WSF £9.00
Dog One Day Rover WSF £2.00
Map & Directions