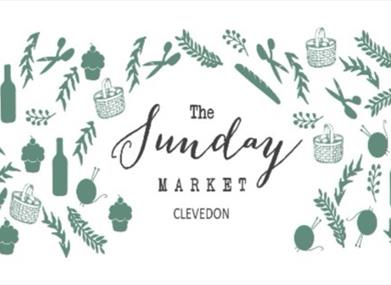 Address/Location
Market Hall Car Park on Alexandra Road
Clevedon
North Somerset
BS21 7QH
Contact
The Sunday Market runs in Clevedon on the first Sunday of every month (March to December 2018). It includes stalls celebrating locally produced food and drink, talented craft makers and vintage collectors from the South West of England.
Opens 10am - 2pm.
Stalls:
Jewellery by Jo
Cadbury Alpacas
Lolly & Moo
Somerset Charcuterie
CW Planters
Winnie's Bakery
Oh my Lovely
Renovare of Clevedon
Little Vintage Hen
Maggierose Beads
Bumble and Moss
Jacklands fishing lakes
KB crafts
Buttons to Brogues
Little Blue House Snacks
Danelion Jack
L'atelier
Mayringues
Hullabaloos
Beat Ales
Snowdrop Cottage Fine Foods
Eleanor Jane Vintage and handmade
Stuff and Nonsense
Serious Treats
Buttons
Colly Wholly Craft
Jinks
Ginger Bread Preserves
Abi Murray
Feltbyfi
Bath Soft Cheese
Reclaimed pine designs
Leagrove antiques and Vintage
Sausage Shed
Nutts For
Moonlight Jewellery
Lottie's Vintage Home
Clevedon Bag Company
G-star
Little Craft Company
Wild Grove
Fatpoppy Cat crafts
Frame you
Adam's Chocolates
Lollipop Lampshades
Bloz Design
Fait a la main
Delemi Bites
Open 10am - 2pm.
Opening Times
Season

(1 Apr 2018)

Day
Times
Sunday

10:00

14:00
Season

(6 May 2018)

Day
Times
Sunday

10:00

14:00
Season

(3 Jun 2018)

Day
Times
Sunday

10:00

14:00
Season

(1 Jul 2018)

Day
Times
Sunday

10:00

14:00
Season

(5 Aug 2018)

Day
Times
Sunday

10:00

14:00
Season

(2 Sep 2018)

Day
Times
Sunday

10:00

14:00
Season

(7 Oct 2018)

Day
Times
Sunday

10:00

14:00
Season

(4 Nov 2018)

Day
Times
Sunday

10:00

14:00
Season

(2 Dec 2018)

Day
Times
Sunday

10:00

14:00