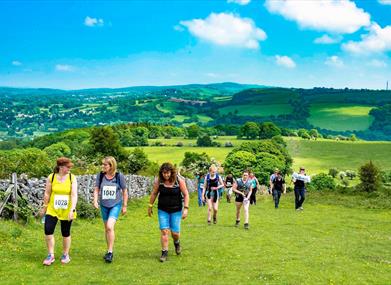 Address/Location
Weston Hospicecare
Jackson-Barstow House
28 Thornbury Road, Uphill
Weston-super-Mare
North Somerset
BS23 4YQ
Contact
The ​Mendip ​Challenge ​is ​an ​exciting ​sponsored ​event ​for ​those ​looking ​to ​have ​fun, ​challenge ​themselves ​and ​raise ​money ​for ​Weston ​Hospicecare. ​The ​routes ​- ​10 ​miles, ​20 ​miles ​or ​30 ​miles ​- ​are ​open ​to ​all ​individuals, ​teams, ​families ​and ​dogs ​and ​take ​you ​along ​the ​West ​Mendip ​Way ​in ​the ​Somerset ​hills! ​

You ​can ​choose ​the ​distance ​that ​best ​suits ​you ​and ​when ​you ​get ​back ​from ​your ​trek ​across ​the ​hills ​there ​will ​be ​food ​and ​drink ​available ​for ​you ​to ​buy, ​as ​well ​as ​music ​for ​you ​and ​your ​friends ​and ​family ​to ​enjoy.

So ​what ​are ​you ​waiting ​for? ​Dust ​off ​those ​walking ​boots ​and ​get ​hiking ​for ​a ​great ​cause. ​

Distance ​Difficulty ​Level ​
10 ​Miles - ​Moderate: ​demanding ​with ​hills ​generally ​on ​tracks, ​paths ​or ​fields. ​Can ​be ​completed ​with ​some ​walking ​experience.

20 ​Miles ​- ​Strenuous: ​longer ​distances ​and ​more ​hills ​with ​rougher ​terrain. ​Training ​advised.

30 ​Miles - ​Challenging: ​steeper ​hills ​over ​rough ​terrain. ​Training ​strongly ​advised ​for ​this ​distance. ​ ​Suggested ​minimum ​age ​14 ​years ​with ​previous ​walking ​experience.

* ​Please ​note ​children ​under ​16 ​must ​be ​accompanied ​by ​an ​adult ​over ​18.

** ​Please ​note ​there ​is ​no ​parking ​in ​Westhaven ​School ​and ​limited ​parking ​around ​Uphill. ​Please ​allow ​plenty ​of ​time ​to ​park ​before ​registering ​and ​carshare ​where ​possible.
Opening Times
Mendip Challenge 2018

(3 Jun 2018)

Day
Times
Sunday

08:00

17:00