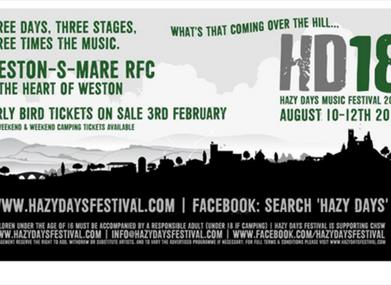 Address/Location
Weston-super-Mare Rugby Football Club
Sunnyside Road
Weston-super-Mare
North Somerset
BS23 3PA
Contact
The Hazy Days Team is excited to announce that this year's family-friendly festival will be taking place over the weekend of 10th/11th/12th August 2018 and there is an exciting change of site!
Whilst we appreciate that The Tropicana was a fantastic venue, it is now going through its own changes and transitions, and we have been offered the great opportunity to collaborate with a local group who will be celebrating 150 years history very soon. We are very happy to announce the festival will take place at Weston-super-Mare RFC right in the heart of Weston, with a full-on community vibe.
In considering this change, we also reflected on feedback from many of you lovely festival-goers who have suggested that a field with camping available would be a great evolution for Hazy Days: so that is what you shall have!
We will be continuing to support Children's Hospice South West, as we have done each year, as we recognise it as a fantastic charity doing vitally important work.
Applications from bands have now closed but we are still welcoming contact from acoustic acts and we are looking forward to the exciting task of organising our varied line-ups for each of our stages over each of the three days. There will be something for everyone!
Early-bird tickets will go on sale on 3rd February with line-up announcements taking place from mid-February onwards. Watch this space!
If you are interested in getting involved as a volunteer or would be able to provide sponsorship for the festival, please get in touch at info@hazydaysfestival.com
As it evolves, we hope you will continue to support the festival and everyone who works so hard to bring live music to Weston-super-Mare and the surrounding areas.
Opening Times
Hazy Dayz Music Festival

(10 Aug 2018 - 12 Aug 2018)

Friday

Open

Saturday

Open

Sunday

Open