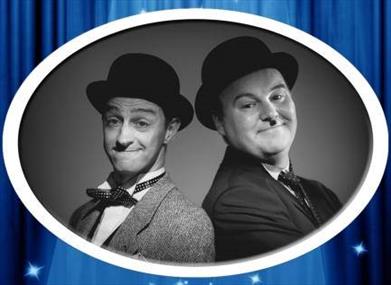 Address/Location
The Blakehay Theatre
20 Wadham Street
Weston-super-Mare
North Somerset
BS23 1JZ
Contact
Lucky Dog Theatre Productions is a professional company from Surrey which produces historically accurate new work about famous lives and events.

It consists of actors Tony Carpenter and Philip Hutchinson, who are generally regarded as the world's top Laurel and Hardy re-enactors. The have recreated movie and newsreel footage for public events on the sites where the originals happened and have also been the first people to perform many Laurel and Hardy scripts that had been unseen for years.

After gaining six five-star reviews at Brighton Fringe in 2013 with their first show, this new play garnered six of its own in 2014 has been frequently lauded as the most accurate, moving and affectionate piece ever written about the world's best-loved comedy duo of all time. Time and again it has had audiences howling with laughter at live and filmed recreations of their most famous routines before reducing grown men to tears at the inevitable conclusion.

This is a highly-regarded and popular play about the lives of Arthur Stanley Jefferson (Stan) and Norvell Hardy (Ollie). The show will guide you through their early lives, rise to international stardom, decline of their movie careers and their phoenix-like revival on the stages of Europe. It details their commitment, the appreciation of their fans, the love of their wives and – most enduringly – their unerring devotion to each other. Expect to laugh your socks off, accompanied by a little singing and questionable dancing, before having your heart broken.

Date: Friday 9th March 2018
Tickets - £10
Opening Times
Sorry, this event has passed