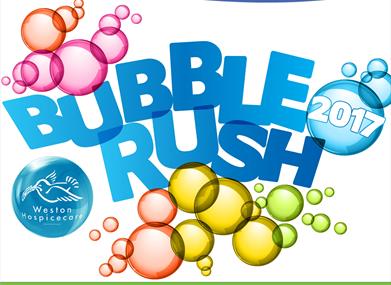 Address/Location
Weston Hospicecare
Jackson-Barstow House
28 Thornbury Road, Uphill
Weston-super-Mare
North Somerset
BS23 4YQ
Contact
Bubble ​Rush at APEX Park in Burnham-on-Sea ​is ​family-friendly ​5k ​course ​with ​four ​coloured ​foam ​stations ​along ​the ​route. ​Bubble ​Rush ​events ​raise ​much-needed ​funds ​for ​local ​hospices. ​It's ​a ​great ​way ​for ​friends, ​families ​and ​colleagues ​to ​enjoy ​a ​foamy ​day ​out ​and ​help ​Weston ​Hospicecare.

You ​will ​receive ​a ​free ​Bubble ​Rush ​white ​t-shirt ​ ​for ​you ​to ​wear ​as ​you ​run, ​hop, ​dance, ​crawl ​or ​walk ​around ​the ​course. ​Bubblers ​(participants) ​are ​set ​off ​in ​waves ​of ​150 ​to ​tackle ​the ​run ​and ​a ​huge ​amount ​of ​bubbles. ​

Before ​you ​start ​our ​MC's ​will ​get ​you ​in ​the ​mood ​and ​the ​atmosphere ​will ​be ​buzzing! ​There ​will ​also ​be ​the ​opportunity ​to ​purchase ​plenty ​of ​colourful ​merchandise ​at ​the ​bubble ​village.

Wave ​Times:
Blue ​wave ​12pm ​- ​registrations ​open ​at ​11am
Green ​wave ​1pm ​- ​registrations ​open ​at ​12pm

PLEASE ​NOTE: ​Children ​under ​16 ​must ​be ​accompanied ​by ​an ​adult ​(aged ​18 ​and ​over) ​who ​is ​also ​taking ​part ​in ​the ​event.
Opening Times
05/08/2017

(5 Aug 2017)

Day
Times
Saturday

11:00

16:00